These chocolate cookies are my family's favorite because they are irresistibly soft, easy to make, rich, and indulgent! These cookies are soft on the inside with a delightful sweet crunch on the outside. Your whole family will enjoy these cookies!
These chocolate cookies are not the only cookies we love, try our Nutella Cookies. You can also browse many more cookie recipes that we enjoy.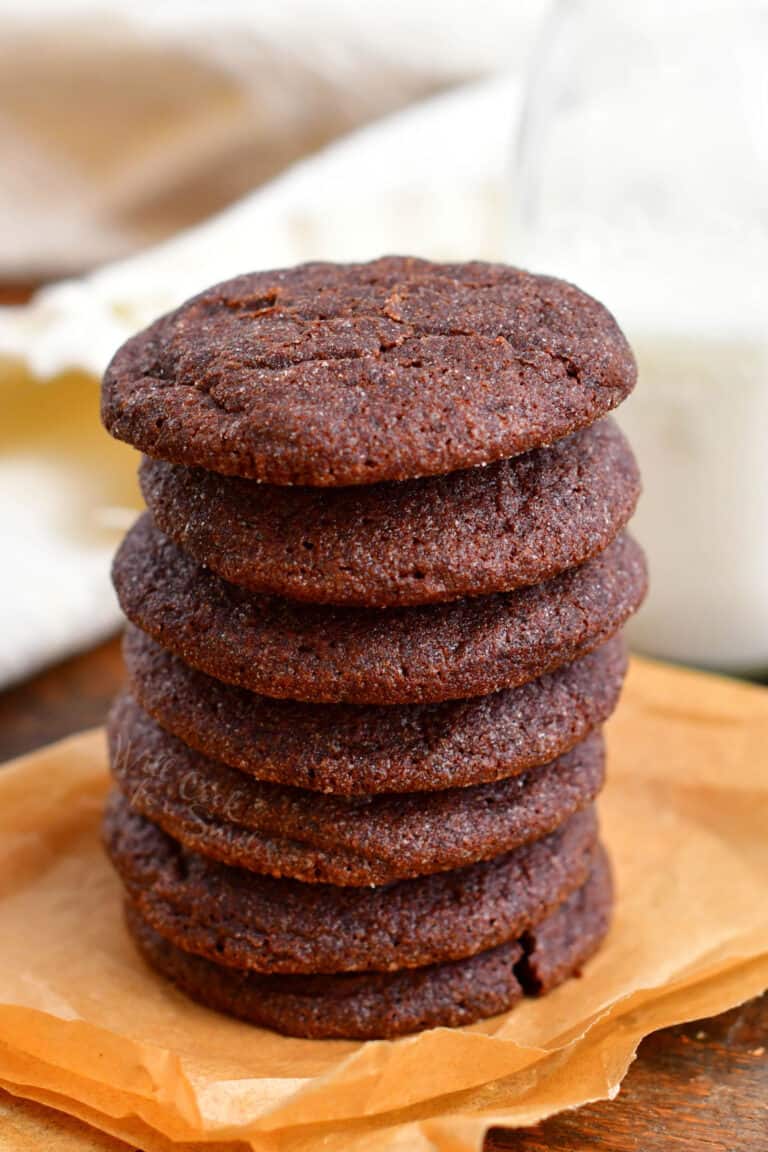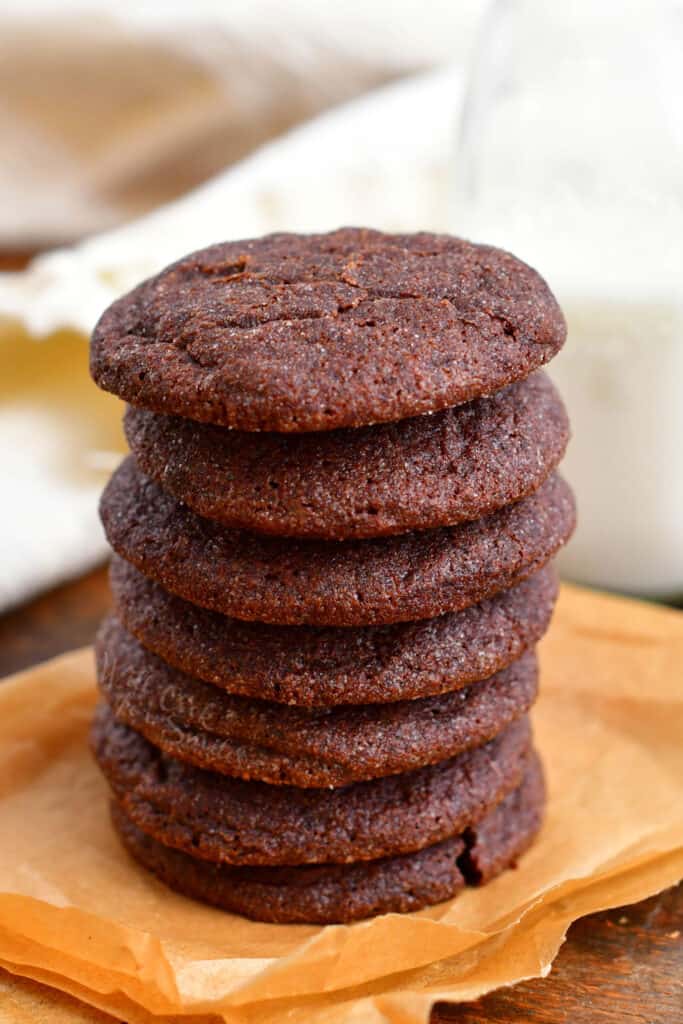 All desserts are certainly not created equal. This chocolate cookie recipe happens to be one of the best because of just how unique it is! Each bite you take is like tasting a little chocolate cloud. Of all the words I could use to describe these cookies, "heavenly" is what comes to mind first!
Cookies are a go-to tasty treat all year long, but there's something especially fun about baking around the holidays. If you're looking for another chocolate recipe to bring to the cookie exchange, try out my recipe for eggnog cookies!
Not that crazy about chocolate? That's okay! Look not further than my recipes for shortbread cookies or soft sugar cookies.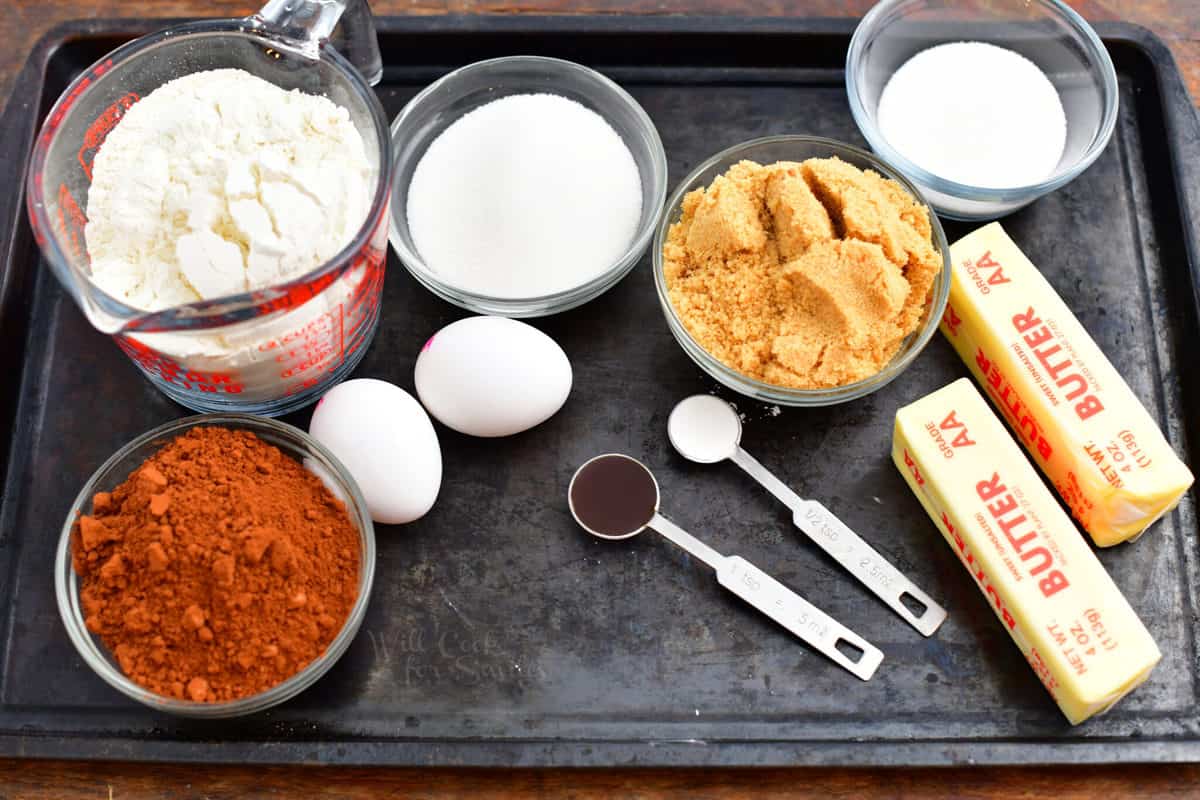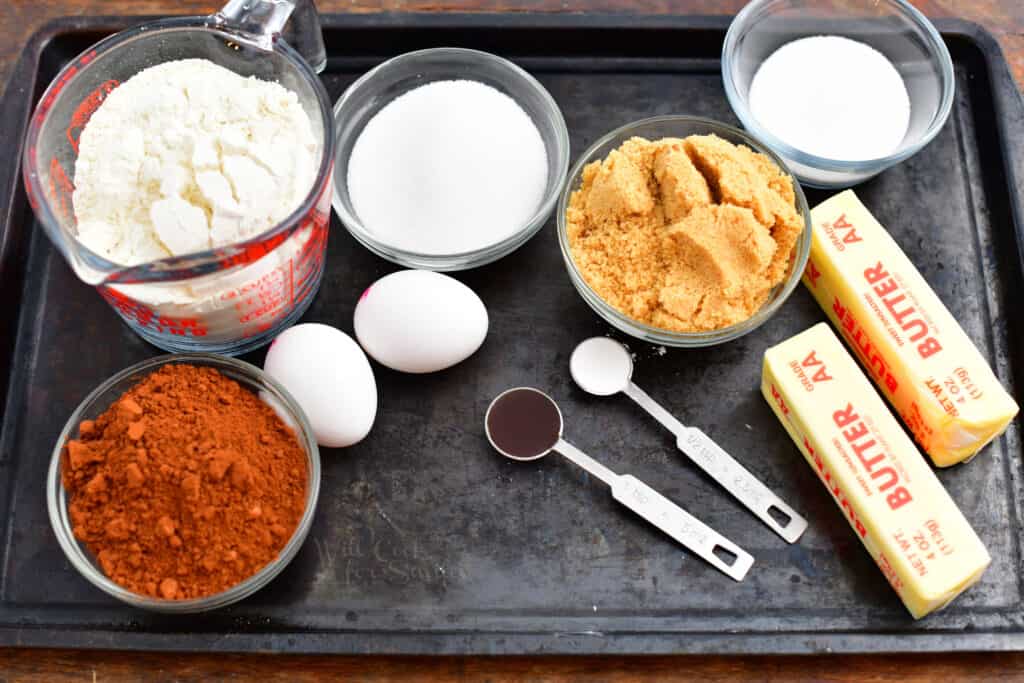 Chocolate Cookie Recipe
Ingredients and Substitutions
You only need 10 ingredients to make this fabulous recipe:
Unsalted Butter – You want unsalted, not salted, and leave it out to soften on the counter for 30-45 minutes before baking.
Brown Sugar – you can use light brown sugar or dark brown sugar if needed. 
White Granulated Sugar You'll need this for the dough, and for rolling. Rolling the dough in sugar gives the cookies a gentle, delightful crunch.
Eggs – Let them become room temperature before baking.
Baking Soda – Be sure to test your baking soda for freshness before you begin making this recipe.
All Purpose Flour
Unsweetened Cocoa Powder – also known as natural cocoa powder.
Vanilla Extract 
Salt – a pinch of salt will provide a nice flavor balance.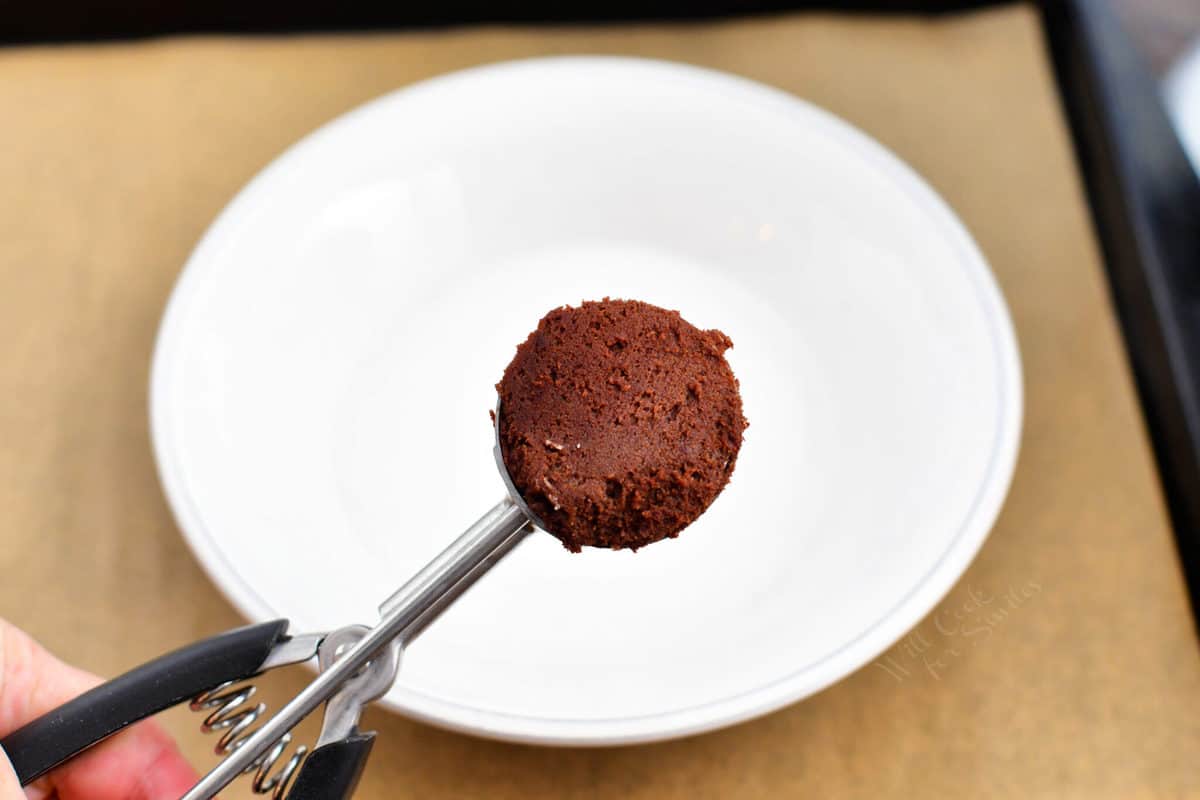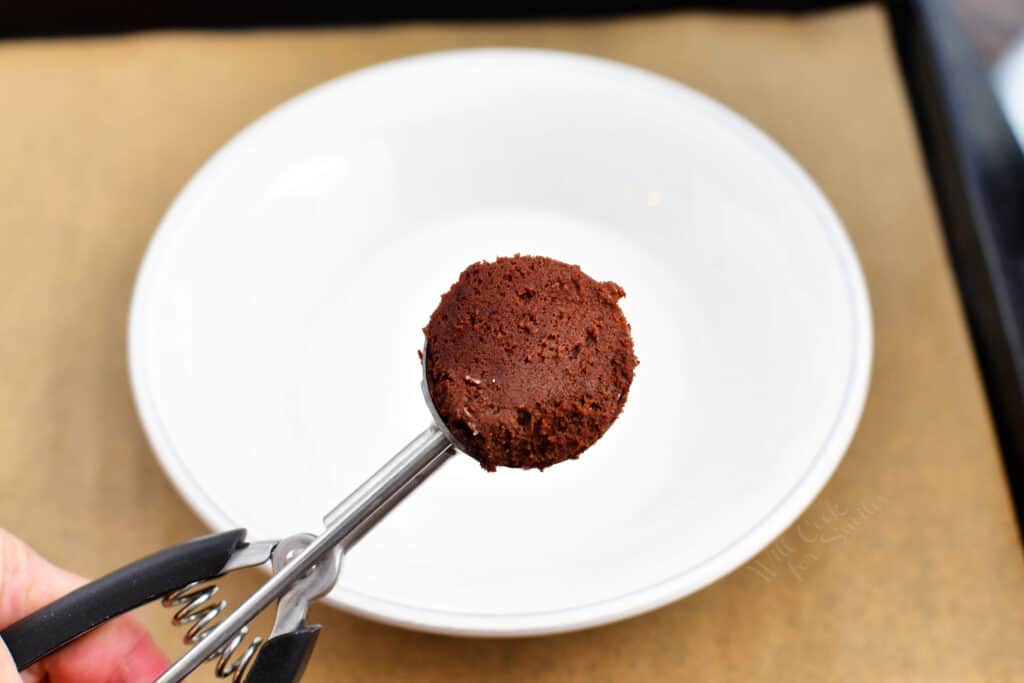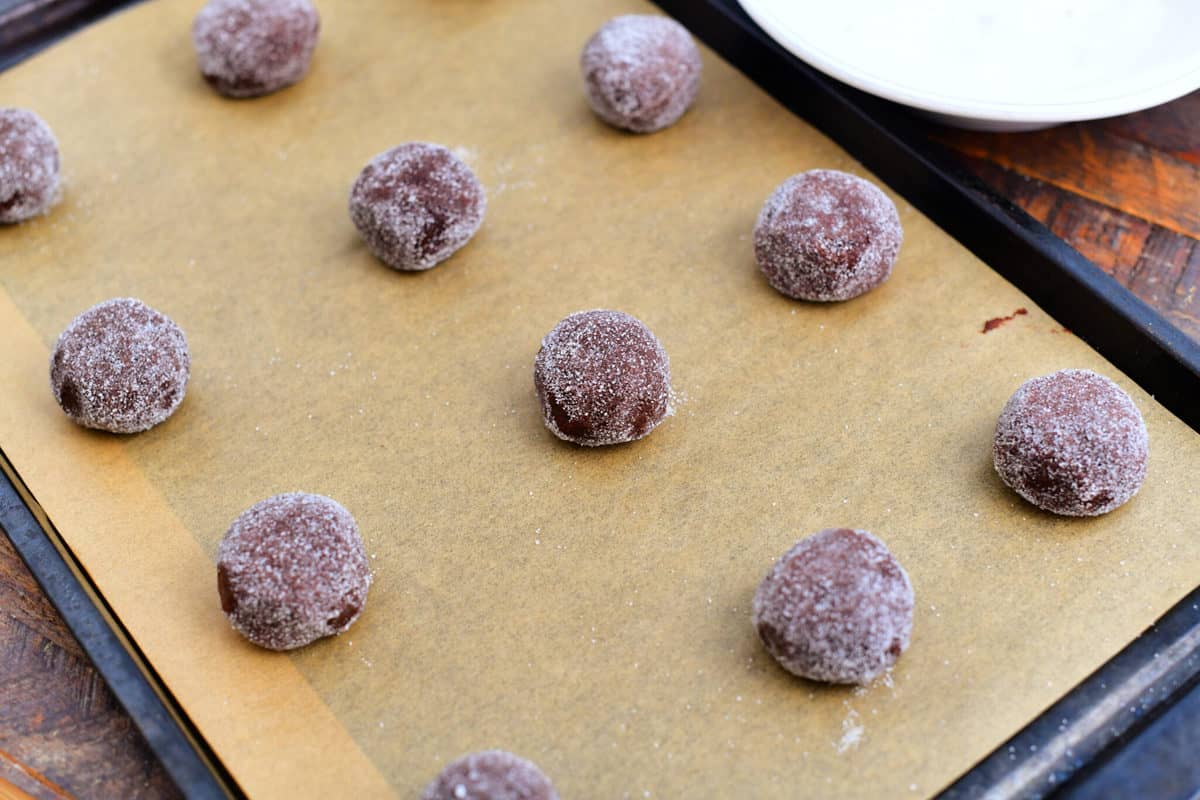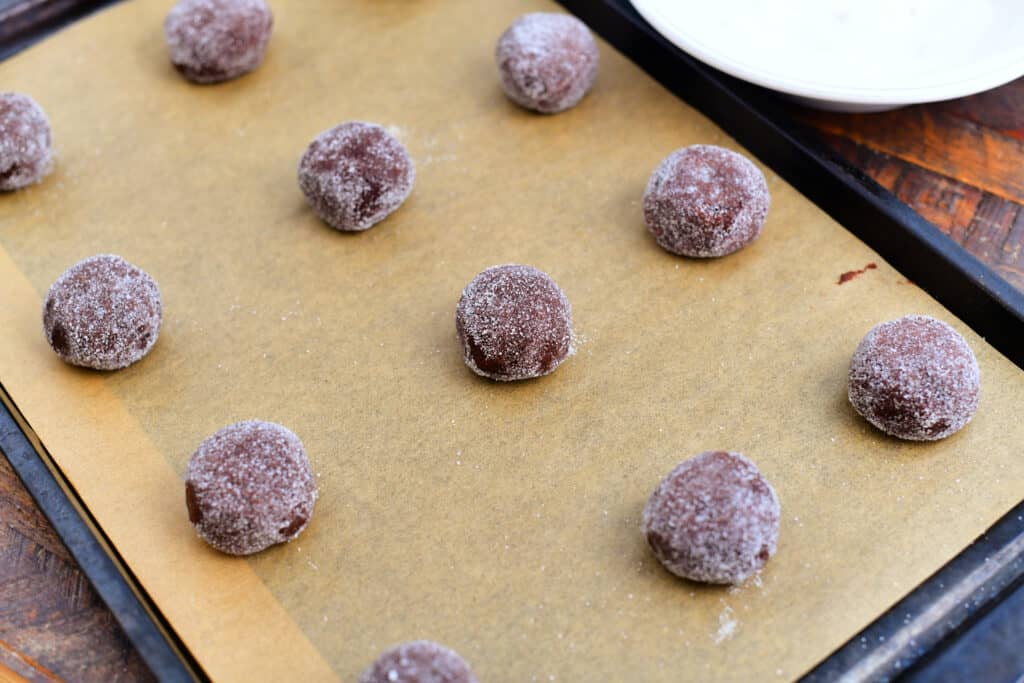 What Is The Difference In Cocoa Powder?
Believe it or not, not all cocoa powder is created equal. There is something special about the (unsweetened) natural cocoa powder vs Dutch-processed. The difference between natural cocoa powder, like Hershey's or Ghirardelli, and Dutch-process cocoa powder is acid.
Dutch-processed powder has been washed in a potassium solution that neutralizes the acid. This gives the cocoa powder its much darker color. When using Dutch-processed cocoa in baking recipes, it's best to pair it with baking powder. Baking powder will provide the acid component for leavening.
Natural cocoa powder is lighter in color and it did not have it's acid stripped, so it still has its acids. So you will need to pair it with baking soda.
How to Make Chocolate Cookies
First things first:
Prepare the butter and eggs. These ingredients both need to be room temperature before you use them! Leave them out of the fridge for about 30-45 minutes before you begin.
Next, make the delicious dough:
Beat the butter and sugar. In an electric mixer, beat the room temperature butter and sugar together for a few minutes. Then, scrape the sides and beat the mixture again, making sure the ingredients are fully incorporated. 
Add eggs and vanilla. Continue scraping the sides as you add the eggs and vanilla extract to the mix. Keep beating at a medium speed.
Add dry ingredients. Add the flour, cocoa powder, and baking soda. Beat at a lower speed until everything is combined. Do NOT continue to beat after everything is combined! That could very well ruin the light consistency you're aiming for. Instead of beating it too much, just use a spatula to scrape the sides of the bowl to make sure everything is mixed.
Roll and scoop the dough. Using a cookie scoop, roll the dough into balls. Then, add some white granulated sugar into a bowl and roll the dough balls in the sugar. This will give them a tasty texture once baked! After that, place them about 2 inches apart on a prepared baking sheet. That way, they're all the same size and don't bake into each other.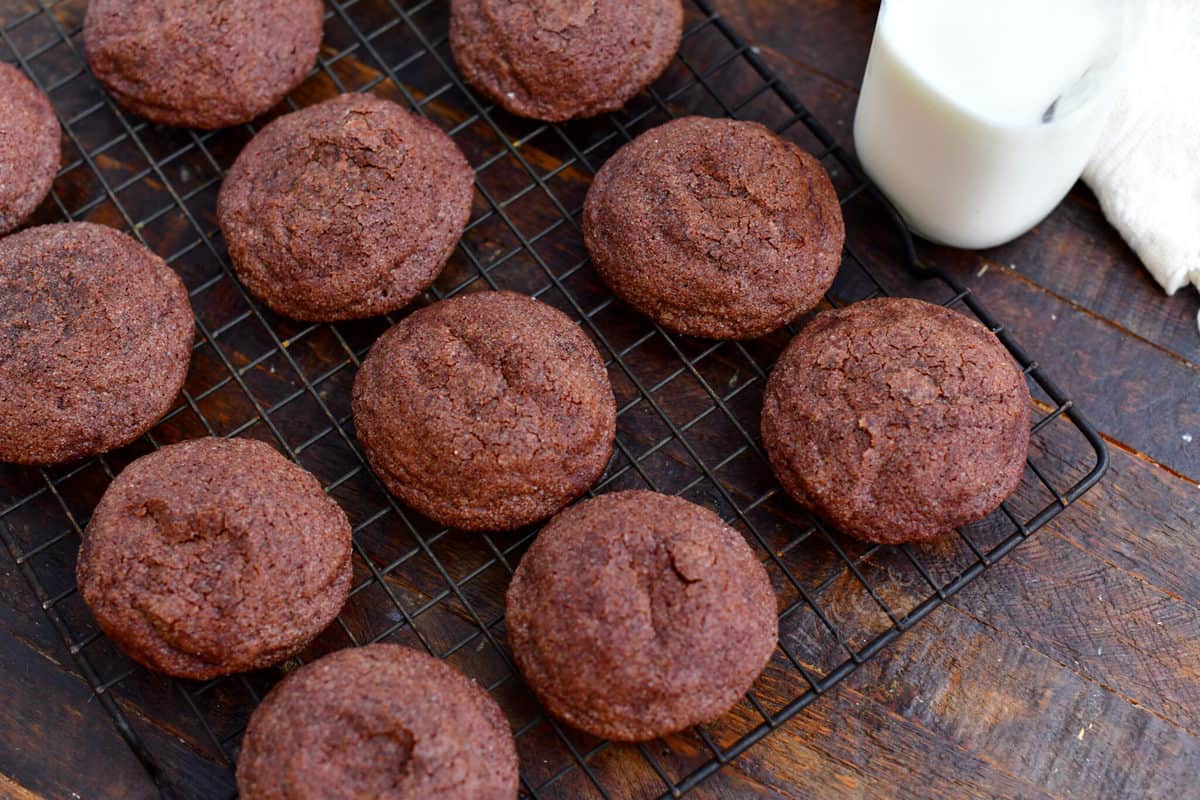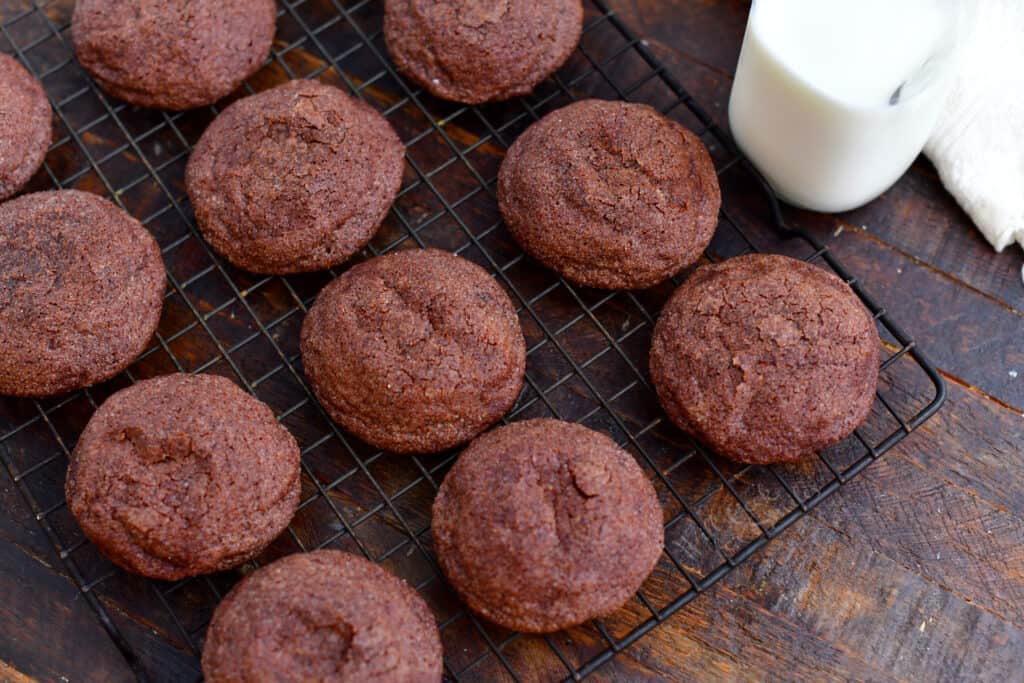 Time to bake:
Bake the cookies. This step should only take about 15-17 minutes, depending on the size of them. At this point, your kitchen will smell like a wonderful chocolatey bakery!
Cool them. On a wire rack, let the cookies cool. You'll be tempted to eat them right away, but they taste a lot better with an unburned mouth!
Enjoy! While you're baking the other batches, feel free to sneak a cookie or two. Or three. Who's counting?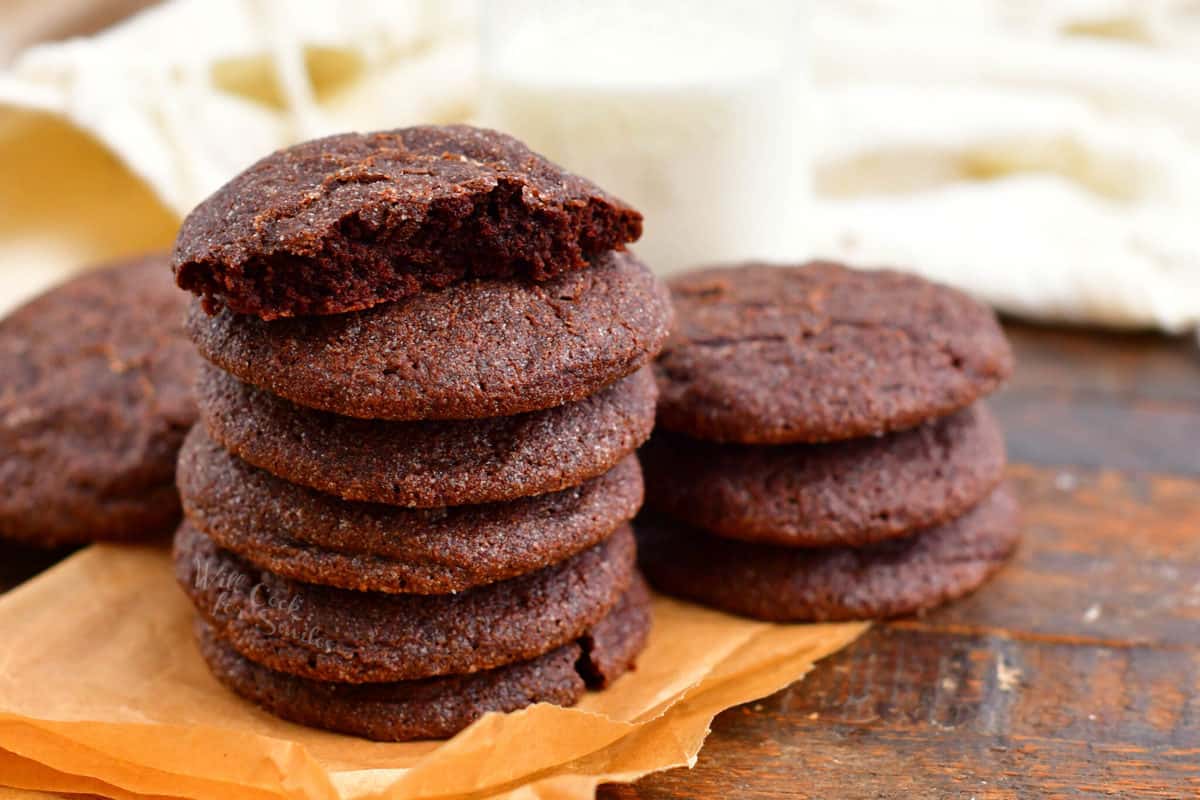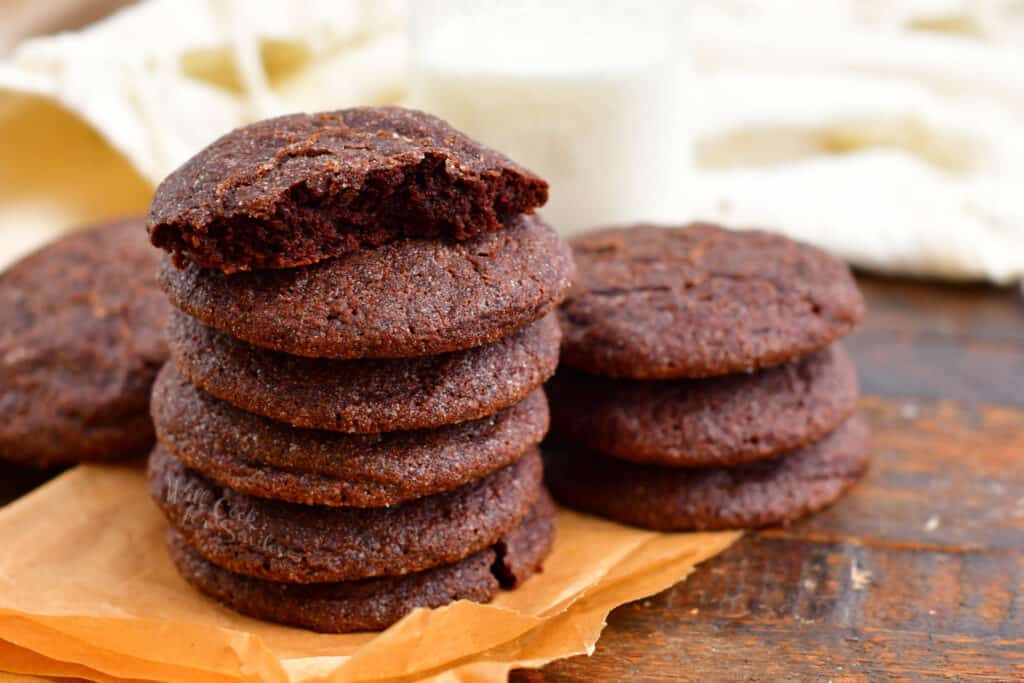 Q&A
How can I make this dessert more festive?
If you want to dress the cookies up, feel free to have more fun with the sugar! Instead of rolling the balls of dough in white granulated sugar, try using red and green sugar sprinkles. A little Christmas cheer never hurt anyone! You could do the same for Valentine's Day, Halloween, etc! Feel free to have fun and get creative.
How long do chocolate cookies stay fresh?
In an airtight container at room temperature, these treats should keep fresh for about 3 days. I doubt they'll even make it that long – they seem to practically vanish in my house!
If you're giving them as a gift, you might want to give them the same day you bake them, so they're nice and fresh for your loved one.
The texture isn't as soft as I'd like. What happened?
Unfortunately, this probably means that the dough was beaten a bit too long. Next time, beat the dough until everything is combined, but no longer than that. The magic is in the mixer!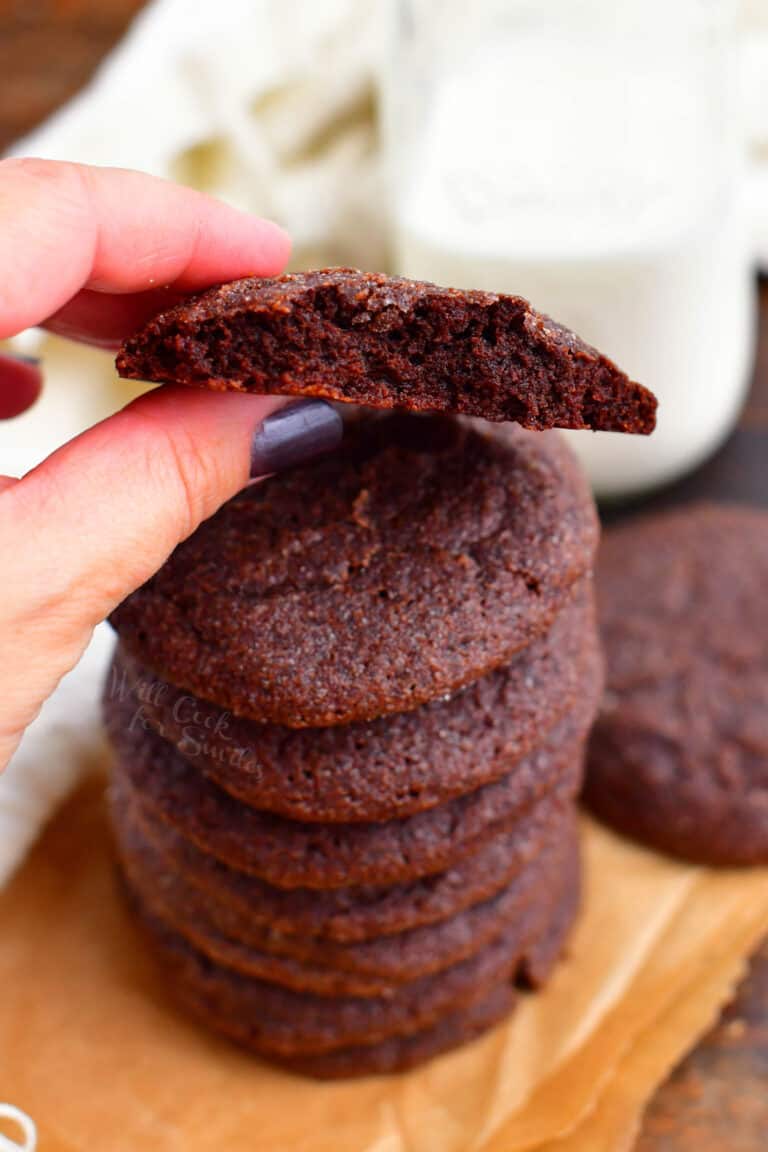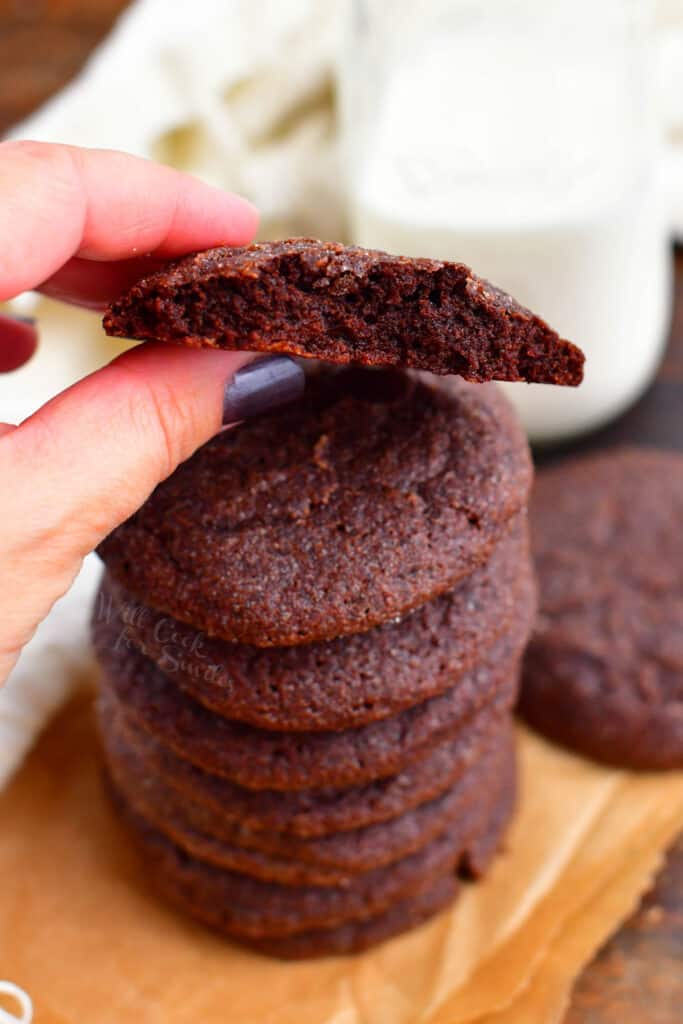 FREEZING CHOCOLATE COOKIES
Unbaked cookie dough – prepare cookie dough and roll it in sugar. Place rolled cookie dough balls on a baking sheet lined with parchment paper.
Freeze for about 2 hours and then transfer the frozen balls of dough into a zip-top freezer bag. Make sure to let all the air out first and label. Freeze for up to 2 months.
You can bake frozen cookies but add about 2 minutes to bake time.
Baked cookies – To freeze baked cookies, lay them in one single layer of a wire rack and let them cool to room temperature. Once cooled, place the wire rack in the freezer and let cookies freeze for about 2 hours. (Set the timer so you remember the cookies.)
Once frozen, transfer cookie into a large zip-top freezer bag. You can either store all cookies at once, or portion them into smaller bags. 
Make sure to label, seal, and place back into the freezer. Frozen baked cookies will last up to 6 months.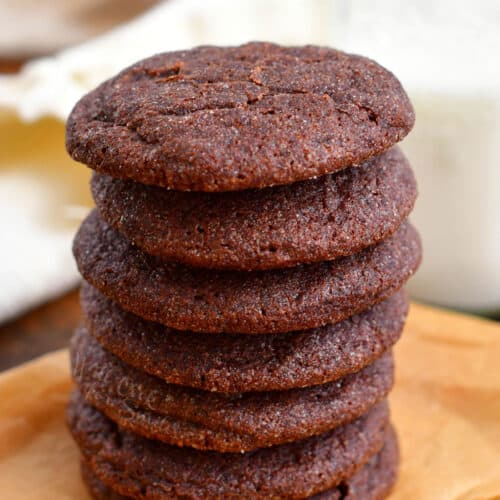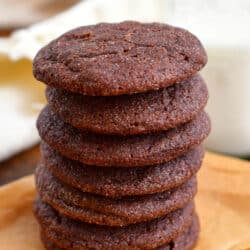 Chocolate Cookies
These chocolate cookies are my family's favorite because they are irresistibly soft, easy to make, rich, and indulgent! These cookies are soft in the inside with a delightful sweet crunch on the outside.
Print
Pin
Save
Saved!
Rate
Ingredients
1

cup

unsalted butter

softened

1

cup

brown sugar

1/2

cup

white granulated sugar

2

eggs

room temperature

1/2

tsp

baking soda

1 3/4

cups

all purpose flour

3/4

cup

unsweetened cocoa powder

1

tsp

vanilla extract

1/4

tsp

salt

1/4-1/3

cup

white granulated sugar

for rolling
Instructions
Before baking:
Take butter and eggs out of the refrigerator and leave it on the counter to get to room temperature for 30-45 minutes.
Prepare the cookie dough:
Preheat oven to 325° and line a cookie sheet with parchment paper.

Beat butter and sugars together for a couple of minutes in an electric mixer on medium-high speed.

Scrape sides and bottom of the bowl and beat for another minute.

Scrape sides and bottom of the bowl again and beat in eggs and vanilla extract on medium speed. 

Lower speed to low and add flour, cocoa powder, and baking soda. Beat just until combined.

Scrape sides and bottom of the bowl and use a spatula to make sure that all ingredients are evenly mixed.

Scoop cookie dough with a cookie scoop (you can use #50 (or #40) cookie scoop). Quickly but gently roll it into a ball and gently press to flatter it only slightly. 

Add some white granulated sugar into a shallow bowl and roll each cookie ball in it to coat the outside.

Place cookie dough balls on prepared cookie sheet, about 2 inches apart. 
Bake:
Bake for 15-17 minutes, depending on the size of the cookie.

Cool cookies on a wire rack.

Repeat with remaining batches of cookies.
Nutrition
Calories:
159
kcal
|
Carbohydrates:
22
g
|
Protein:
2
g
|
Fat:
8
g
|
Saturated Fat:
5
g
|
Cholesterol:
31
mg
|
Sodium:
31
mg
|
Potassium:
75
mg
|
Fiber:
1
g
|
Sugar:
14
g
|
Vitamin A:
236
IU
|
Calcium:
20
mg
|
Iron:
1
mg
Tried this recipe?
Mention @willcookforsmiles and tag #willcookforsmiles