Coconut lovers rejoice! I've created amazing donuts that you will fall in love with at the first bite! It's Coconut Cake Donuts that hold coconut flavors inside and out.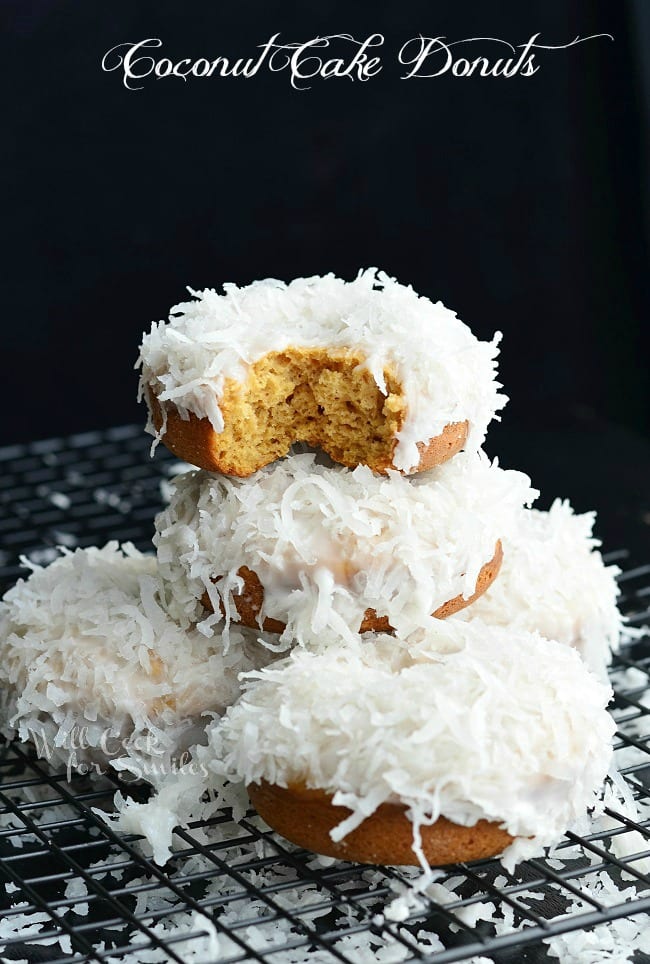 Do you follow me on Instagram and Twitter?
If you do, you probably saw the tasty treats I shared while I was on my little vacation to NYC. I tried some new places to eat and I loved most of them. Yeap, "most of them" but not all. There were a couple of places that people rave about but I found kind of blah actually. But let's just talk about the good today since I would definitely recommend you try them.
First of all, the best cookies I've tried so far are from Levain Bakery on Upper West Side. My favorite is Peanut Butter Chocolate cookie and I could eat those every day. Another delicious treat came from the Upper East Side and that's Macarons from Laduree. I actually brought them home with me and tried to make them last as long as possible. Key word here is "tried!"
I finally got to visit Eataly and fell in  love. I can easily spend all day just browsing their store and spend hundreds of dollars on all the awesome food they have there. I see it being a "must visit" place on every trip I take to NYC. I had a delicious lunch there and would have probably walked out with bags of pasta and cheeses if I didn't have to fly a long way home.
I also had the most delicious Thai food I've of my live at Qi Esarn! I met my lovely friend, Kelly from KellyAugustine.com for a long overdue lunch and it was one amazing 3-hour lunch. That's what happens when friends get together to catch up and the food is fantastic. Both of our dishes were incredibly tasty and Sake seemed endless.
Couple more places that are definitely worth mentioning is Mole Mexican Bar and Grill and Parlor Steakhouse. I had the best guacamole at Mole and it definitely made me change the way I make mine now. They added smokey chipotle chili powder and now I can't imagine guac without it. Cocktails we had at Parlor Steakhouse were to die for. I had a Ginger Pear martini and it was made with fresh ginger syrup. SO good!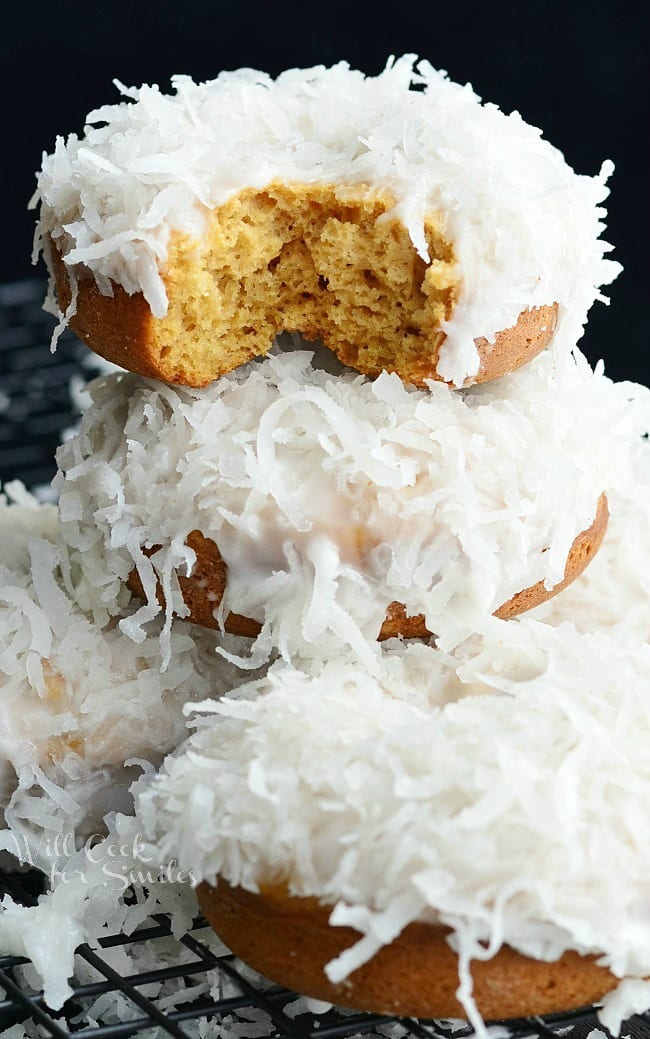 But why am I talking about my visit to New York while sharing a recipe for Coconut Cake Donuts? I'll tell you why… One thing that I really, really wanted to have again, I didn't get to have. I really wanted to stop by the Doughtnut Plant and have another one (or three) of their great doughnuts but I just didn't find the time. So when I got back home, all I could think about is how I didn't get to have a tasty doughnut from them.
I decided to make my own coconut doughnuts but I made it quite different. First of all, the coconut deliciousness I had there was cream filled (wow!) and fried. They do also make delicious baked doughnuts and I tried the blueberry one. They were both so good that I made kind of a hybrid for myself. I made them baked with lots of coconut flavor throughout. I definitely satisfied my craving but it doesn't mean that I won't try to get some Doughnut Plant treats when I'm in NYC again.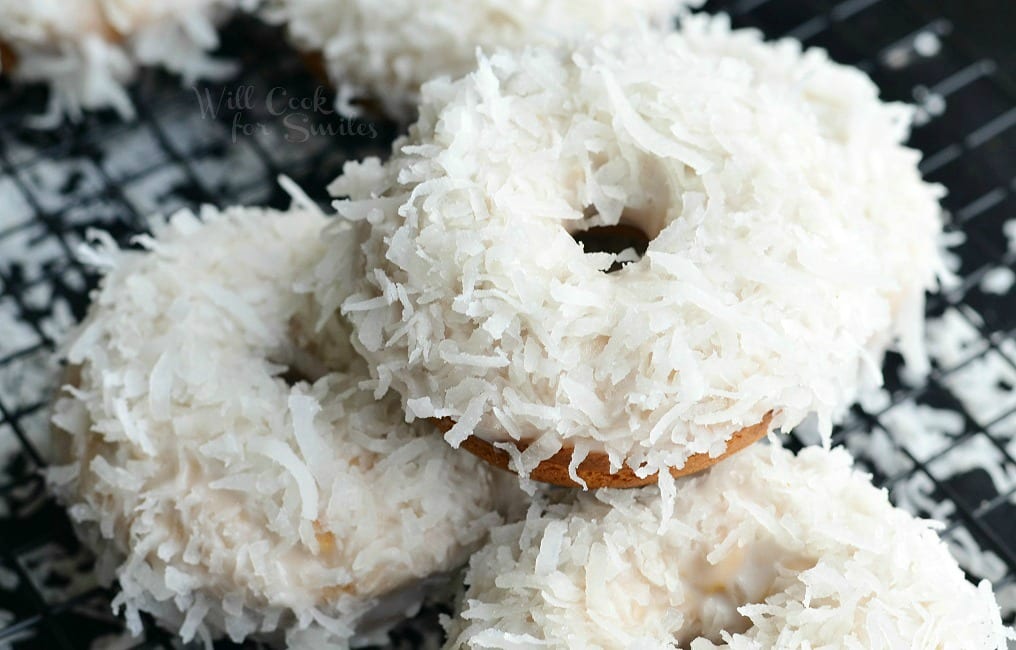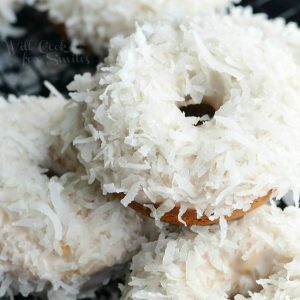 Coconut Cake Donuts
Ingredients
1 1/2

cups

cake flour

1

tsp

baking powder

1/2

tsp

baking soda

1/8

tsp

salt

1

cup

coconut sugar*

1

egg

1/2

cup

buttermilk

2

Tbsp

coconut milk

2

Tbsp

melted unsalted butter

1

tsp

vanilla extract

__

1 1/2

cups

powder sugar

3

Tbsp

coconut milk

1

tsp

vanilla extract

__

1 1/2 -2

cups

coconut flakes

sweetened
Instructions
Preheat oven to 350 and grease a donut pan.

In a large mixing bowl, whisk egg, sugar, buttermilk, coconut milk, melted butter and vanilla extract together until smooth.

Sift in all dry ingredients and whisk until all incorporated.

Transfer batter into a piping bag. (You may have to do it in two takes or the bag will be too full to pipe.)

Cut the tip off both piping bag, leaving only about ½ inch opening.

Squeeze batter into the donut cups of the pan, filling them. Make sure there is an even amount of batter all around.

Bake for 10-11 minutes and cool on the wire rack until they can be handled.Spread paper towel under the cooling rack to catch icing drippings.

While donuts are cooling, prepare the icing.

Heat up coconut milk and vanilla in the microwave for a few seconds (15-20 seconds). Place powder sugar in a bowl and coconut flakes in another bowl. Whisk in coconut milk mixture into powder sugar until all smooth.

Dip each donut into icing, covering top and sides. Dip them into coconut flakes and carefully place back on the wire rack.

Let them sit until completely cooled and icing is set.
Recipe Notes
*You can use 3/4 cup of white granulated sugar instead of coconut sugar. Don't be concerned that donut color will be different if you use white sugar because coconut sugar is what gives these donuts this bright orange-ish color.*
Recipe from Lyuba @ willcookforsmiles.com All images and content are copyright protected. Please do not use my images without prior permission. If you want to share this recipe, please simply link back to this post for the recipe. Thank you.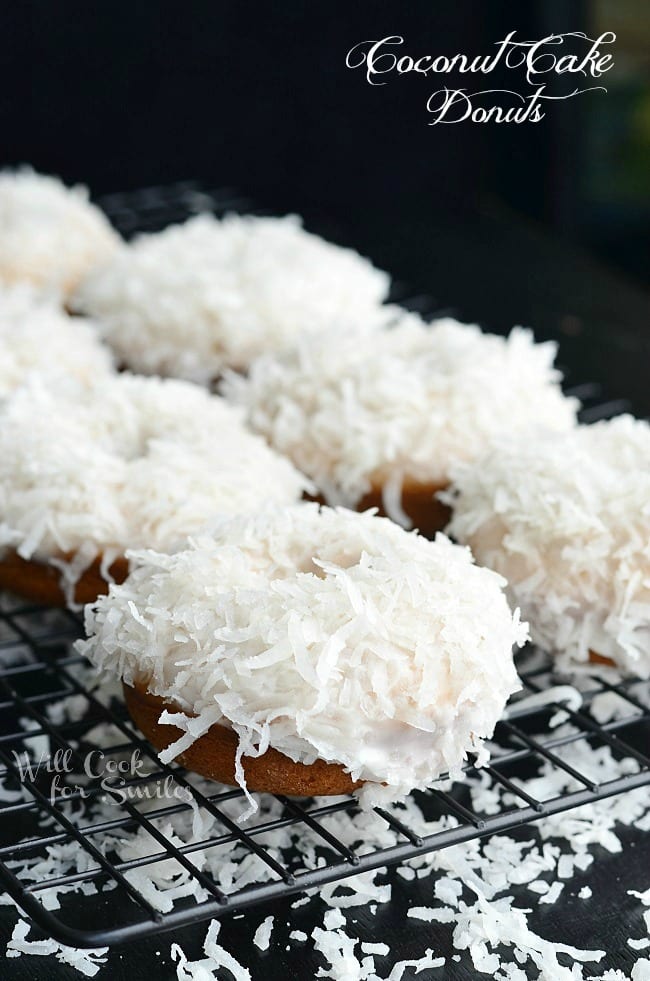 I can't let you go without sharing something very special about my NY trip. I finally got to meet a couple of talented chefs from Brooklyn that I've been talking to on Instagram and Twitter. I got to meet Tony and Chris of the BKBarons duo and try their delicious food. I was lucky enough to not only try their FAMOUS Honey Whiskey Cake, but I also got to try their cooking. Chris and Tony are chefs at Humboldt & Jackson in Brooklyn and they happen to be hosting a pop-up brunch the same weekend that I was in the city. I couldn't miss it for anything.
Everything they served in the four-course meal was amazing. Boys created their recipes with their heritage in mind, which made their dishes so much more special. I was in awe at the Baked Shakshuka with The Barons' Sunday Sauce and Rugelash with Homemade Honeycomb Ice Cream. The sauce that came with Shakshuka was Tony's grandmother's recipe and it is fixed in my memory forever. Next time I'm in Brooklyn, I will most definitely eat at Humboldt & Jackson and I'll have to bribe the chefs to make me something with their special sauce.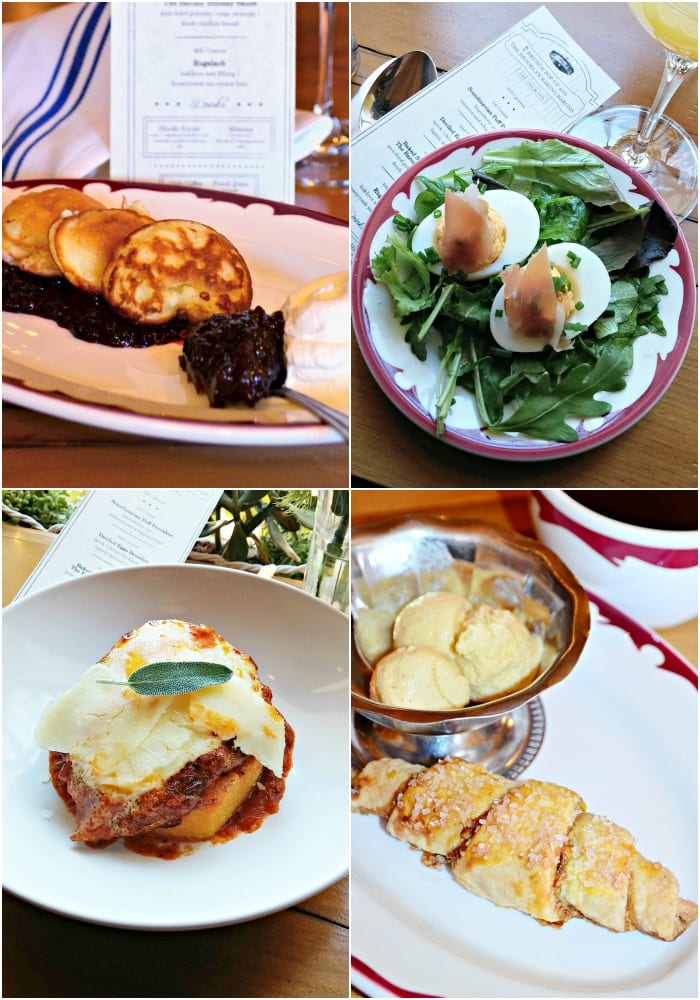 After I was bursting at the seams from that delightful brunch, Chris and Tony had a little gift for me to take home. I got to try one of their legendary Honey Whiskey Cakes. It definitely stands up to all the buzz and reviews. It is an incredibly  delicious cake that is so soft, moist and bursting with flavor. My favorite part is that it's soaked with sweet whiskey glaze throughout, which makes it perfect at every bite, from beginning to end.
Do yourself a favor and try their cake! Whether you are local or not, you can order and enjoy this cake any time.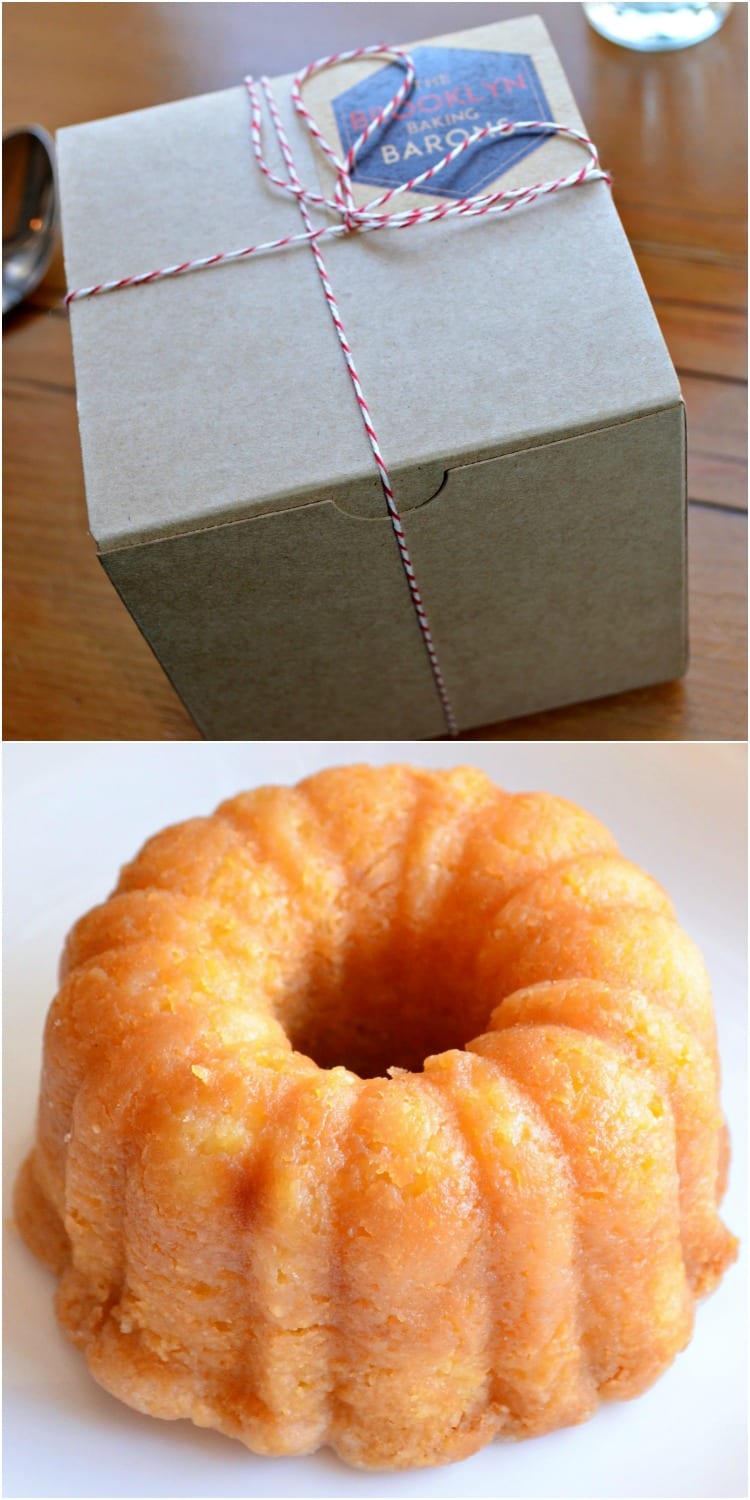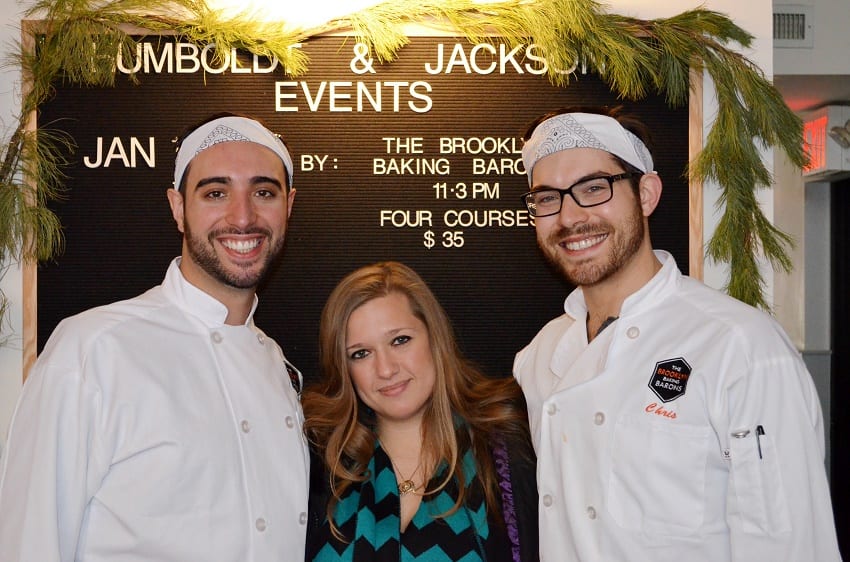 I was so happy to finally meet Tony and Chris in person and I can't wait to eat with them again next time I'm in the New York!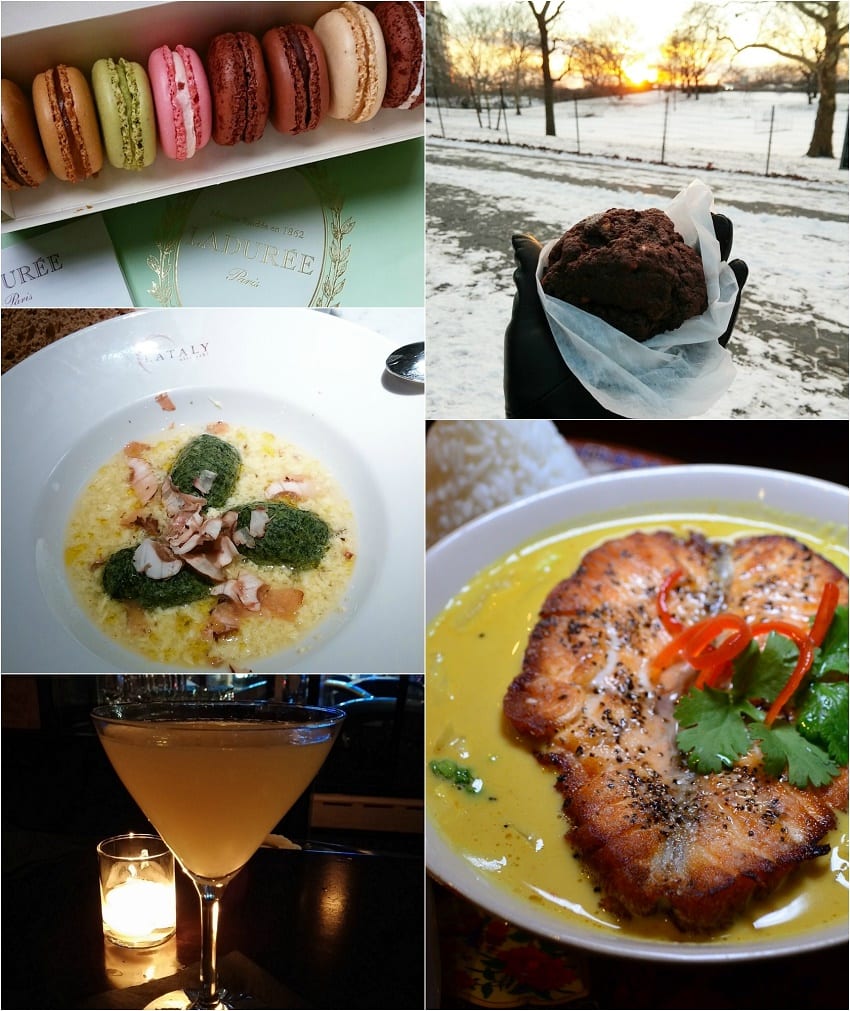 _________________________________________________________
Make sure you follow me through your favorite blog reader (bloglovin or other), subscribe to e-mail or follow me through social media of your choice to keep up with the recipes!
        
_______________________________________________________