Classic sweet potato pie made with sweet, crunchy pecan topping. This creamy, sweet potato pie will make a perfect addition to any holiday celebration and maple pecan topping adds a delightful crunchy texture to every bite.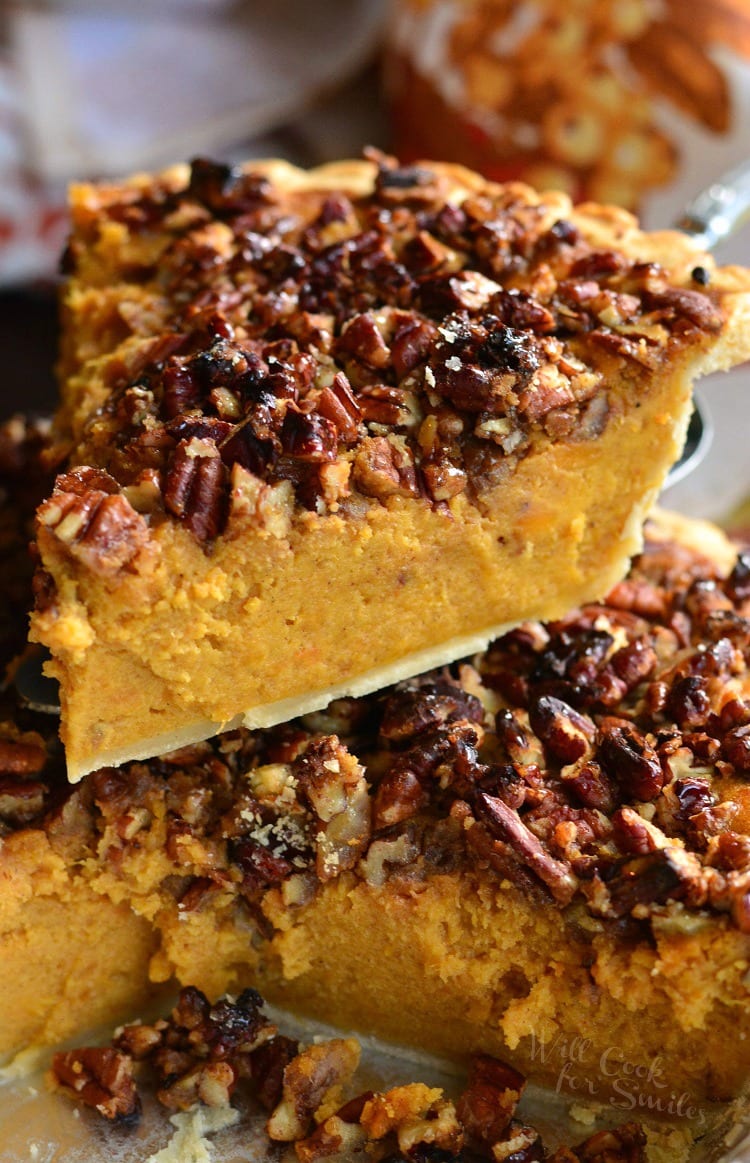 Sweet Potato Pie
Can we talk sweet potato pie vs. pumpkin pie?
Sweet potato pie and pumpkin pie are two classic holiday desserts that we enjoy along side of pecan pie and apple pie. Every year, I make my Pumpkin Cheesecake Pie for our family holiday dinners. It's become such a staple that I don't even think about making any other pie for the holidays. Although, my favorite pie is actually Dutch Apple Pie and my mother in law loves Pecan Pie the most. Yet, my husband's favorite Pumpkin Cheesecake Pie is the one that won the holiday menu spot.
This year, we are actually not doing a family Thanksgiving dinner so I've decided to try and squeeze in a few different pies into our Christmas menu. A few pie might be a bit of an overload for one holiday dinner but I am definitely going to try a few before Christmas and settle on the one that received the most votes.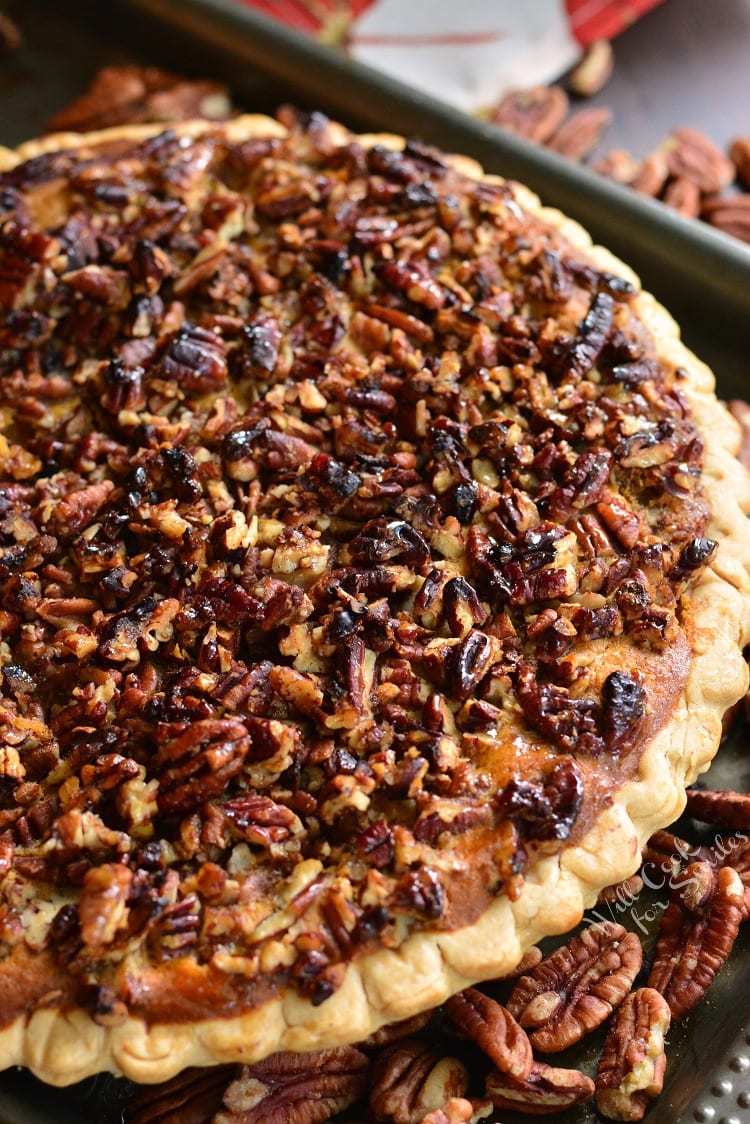 Last weekend, I started my trials with a Pecan Crunch Sweet Potato Pie. I was surprised to find that Sweet Potato Pie tastes remarkably similar to a pumpkin pie. There is a slight textural difference and Sweet Potato Pie seemed a bit creamier. I also decided to add a little crunch and topped off this pie with sweet, maple coated pecans.
Either way, this Sweet Potato Pie was a big hit and is definitely in the running for our Christmas celebration. It must have been the sweet pecan crunch that took this pie to the next level.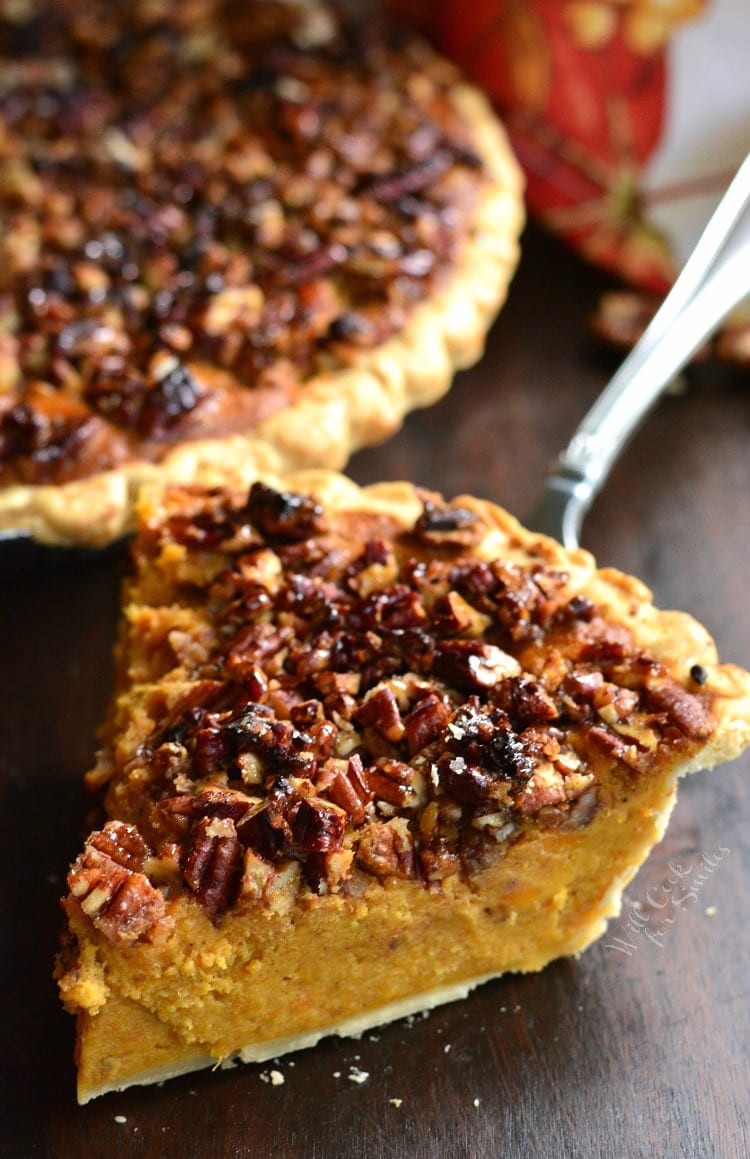 Don't forget to sign up for email, so you won't miss any new recipes.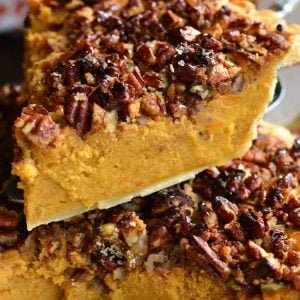 Pecan Crunch Sweet Potato Pie
Classic sweet potato pie made with sweet, crunchy pecan topping.
Total Time
2
hours
15
minutes
Ingredients
Pie filling:

2

cups

of mashed

cooked sweet potatoes (about 1 lb uncooked)

6

Tbsp

butter

softened

1/2

cup

sugar

2

eggs

3/4

cup

evaporated milk

3

Tbsp

molasses

2

tsp

vanilla extract

1

tsp

cinnamon

1/2

tsp

nutmeg

Deep dish pastry shell

Pecan topping:

1 1/2

cups

chopped pecans

3

Tbsp

maple syrup
Instructions
(You can prepare sweet potatoes ahead of time, even a day before.)

Wrap sweet potatoes in aluminum foil and bake them at 350 until completely cooked through. (Time will depend on the size of the sweet potatoes.)

Unwrap sweet potatoes once they are done and set aside to cool down.

In a large mixing bowl, beat butter and sugar together.

Beat in eggs, one at a time.

Beat in evaporated milk and molasses.

Mash (or puree) cooked sweet potatoes and beat it into the pie filling mixture.

Add vanilla, cinnamon, and nutmeg. Blend everything well.

Pour sweet potato pie filling into the pie shell.

Bake at 425 for 15 minutes.

Mix chopped pecans with maple syrup until all evenly coated and set aside.

Lower temperature to 350, spread the pecan topping over the top of the pie and continue baking for about 40 more minutes.

Take out and let it cool completely.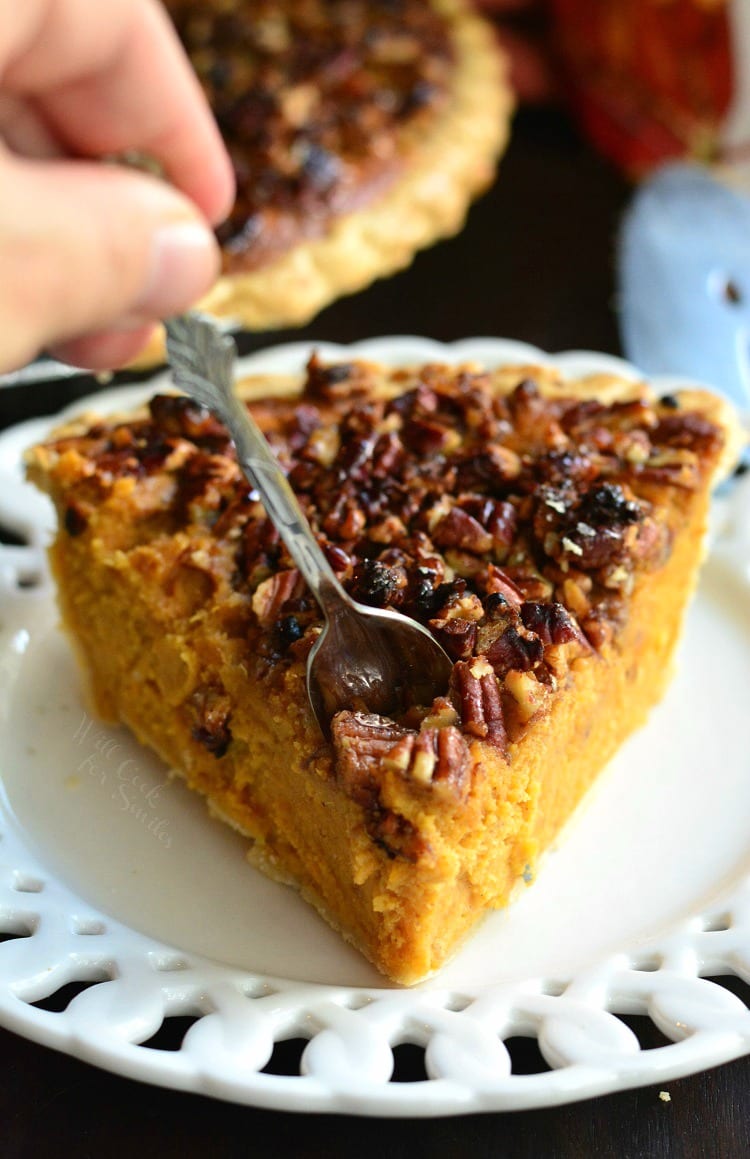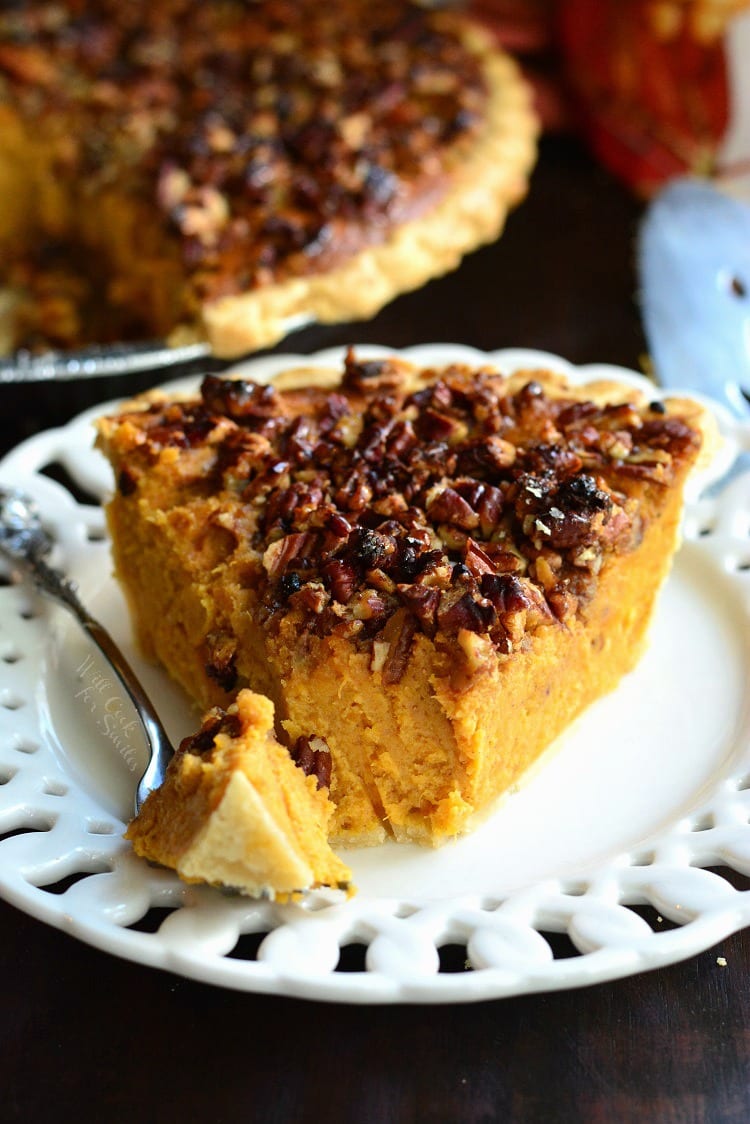 _______________________________________________________
Make sure you follow me through your favorite blog reader (bloglovin or other), subscribe to e-mail or follow me through social media of your choice to keep up with the recipes!

_______________________________________________________

Some More Recipes From Me: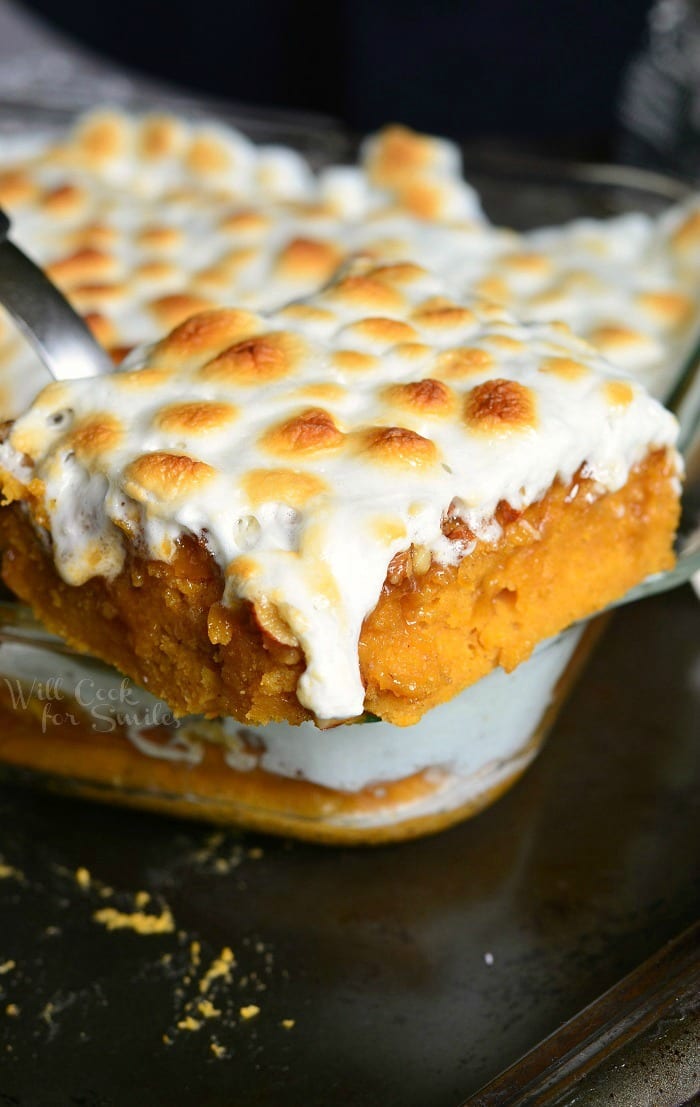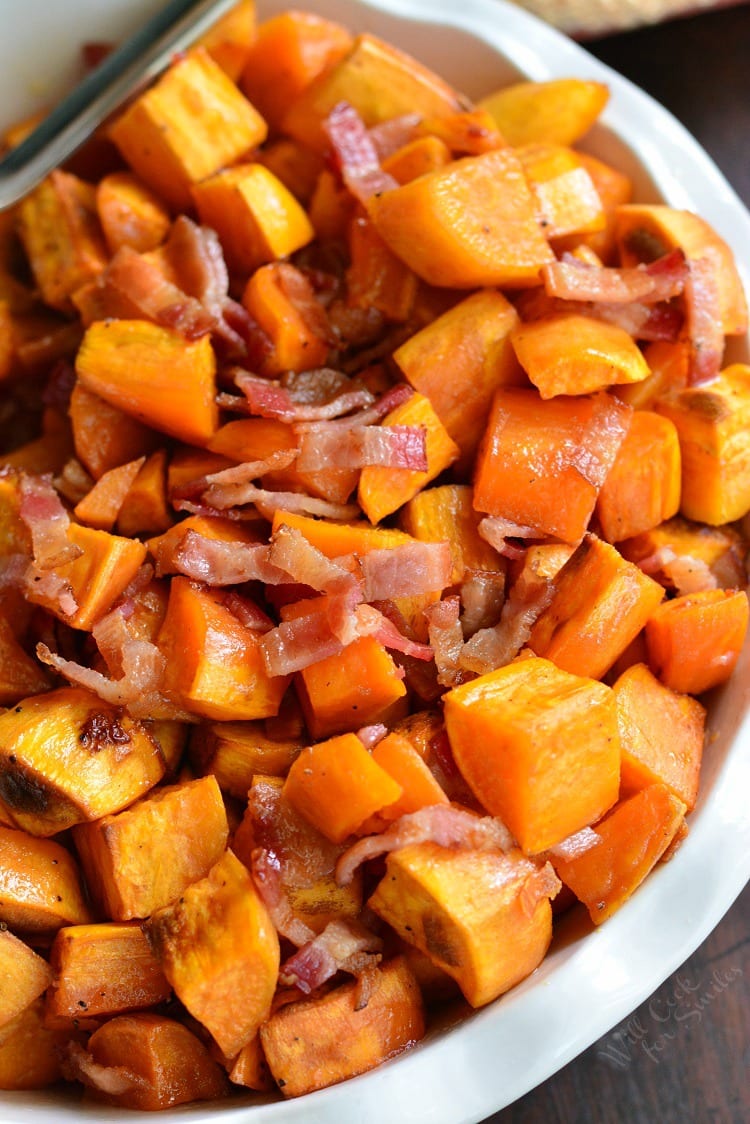 Maple Bacon Roasted Sweet Potatoes