I've decided to revamp my old Broccoli Cheese soup recipe. After years of tweaking, my new version is better and a bit healthier. I will share my improved recipe for Broccoli Bacon Cheese soup today.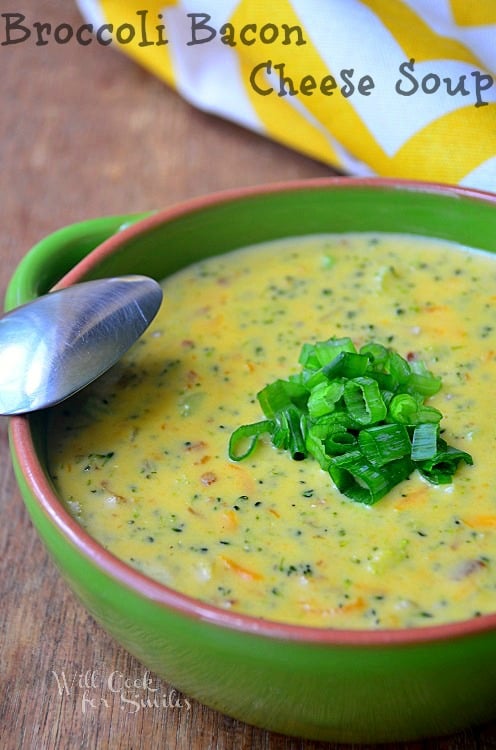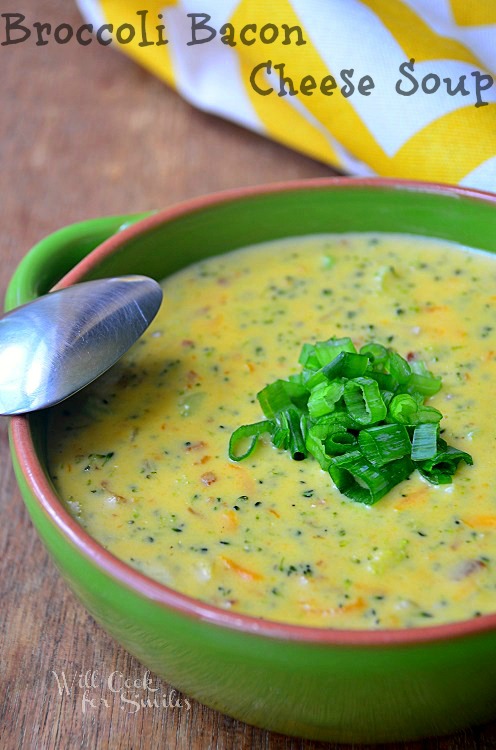 Did you know that Broccoli Cheese Soup was my very first recipe on this blog? Yeap, that is where it all began. I'm almost embarrassed to show you this first post but you can see it here. I've contemplated removing my old posts from the first year but once I start thinking about it, I realize that it shows where I came from and how far I've come. I used to share my recipes on Facebook with my friends, some suggested that I should start a blog. Bippity, boppity, boo…this little blog was born.
This soup was also my first experience with Velveeta cheese. I can't even tell you how many years ago I started making this soup. I remember falling in love with it from the first bite. I've tried making different broccoli cheese soups through the years, trying different cheeses, but none were as good as using Velveeta. It's now my family's favorite soup and Velveeta is a big part of it. It makes the soup smooth and creamy while adding extra deliciousness.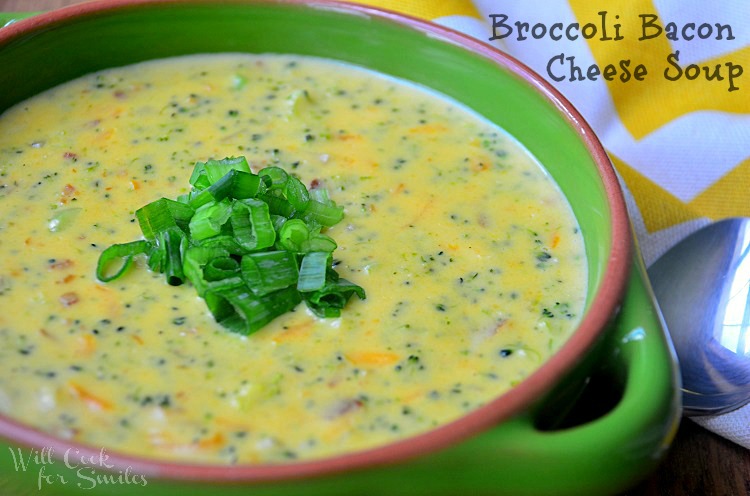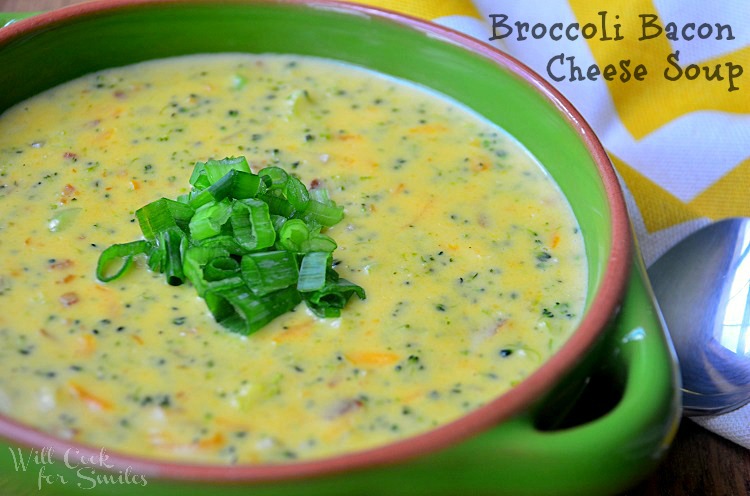 I mentioned many times before that my husband is anti-vegetable. Unlike the little man, he tried to avoid eating veggies at any cost. One time, I caught him giving his broccoli to the little man because he didn't want to eat it.
So it was major when he ate this soup entirely and loved it. I've been making this soup ever since and always trying to make it a bit healthier and jam come extra veggies in it. I added some crispy bacon to make him happy and extra hidden veggies to make me happy.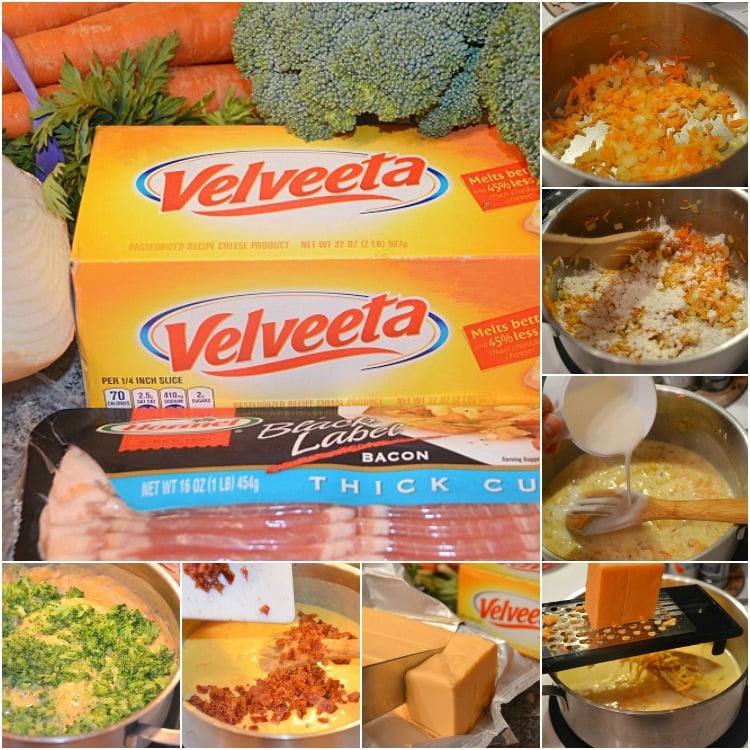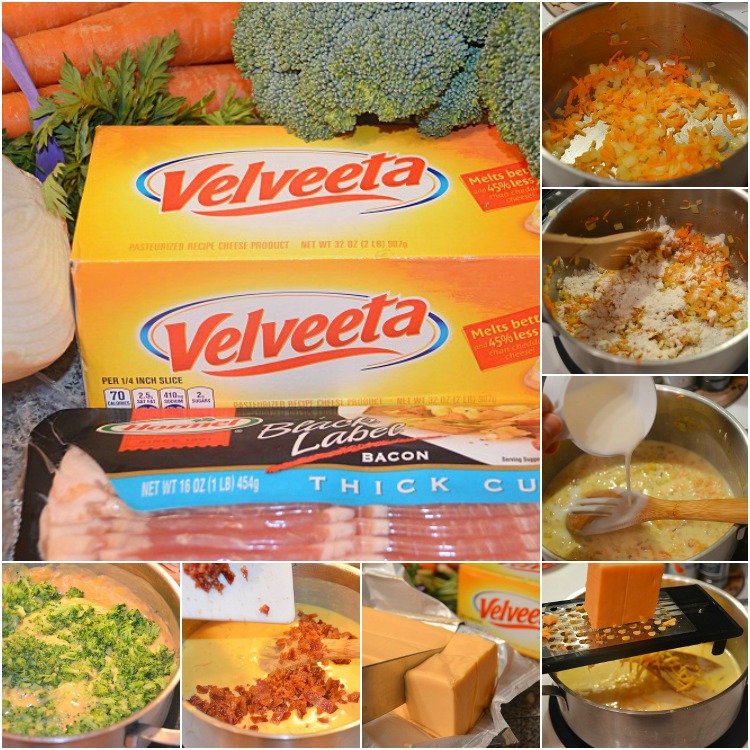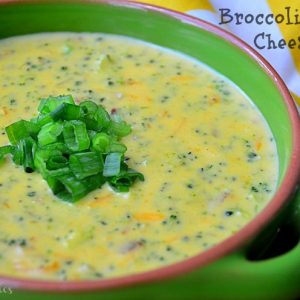 Broccoli Bacon Cheese Soup
Ingredients
2

bunches of broccoli

1

medium carrot

5

crispy bacon strips

6

oz

sharp cheddar cheese

block not shredded (I use 2%)

4

oz

Swiss

block not shredded

6

oz

Velveeta cheese

1/2

medium yellow onion

1

clove

of Garlic

3

tbs

vegetable oil

3

tbs

flour

1 1/2

cups

2% milk

1 1/2

cups

vegetable stock

salt

fresh cracked peppercorn

2

tsp

minced fresh parsley
Instructions
Steam broccoli until soft. Mash about half the broccoli with a fork, set aside.

In a medium pot, heat up the oil on medium heat. Add chopped onion and shredded carrot. Saute until the onion is transparent.

Add minced garlic clove, stir well and saute until fragrant.

Sprinkle with flour and mix until veggies are coated with flour.

Slowly pour in the milk and veggie stock while constantly stirring.

Let the soup heat through (still on medium heat.) Once it starts to boil, start adding cheese.

Grate the cheddar and Swiss cheese into the pot. Stir slowly until melted. (I recommend using block cheese and grate it in yourself because it will melt much better. Pre-shredded cheese is coated in cornstarch while packaged, so it's a little harder to melt.)

Chop the Velveeta into 1-inch cubes, for faster melting, and add it to the pot. Stir slowly and constantly until the cheese is melted.

Stir in chopped bacon.

Add salt and cracked peppercorns to taste. (Since Velveeta, bacon and other cheeses have salt in it, don't add salt until you add those ingredients.)

Stir in the broccoli. Lower the heat to medium low, cover and cook for about 7-10 minutes, stirring occasionally.

Stir in the fresh parsley and serve.
Recipe Notes
Recipe from Lyuba @ willcookforsmiles.com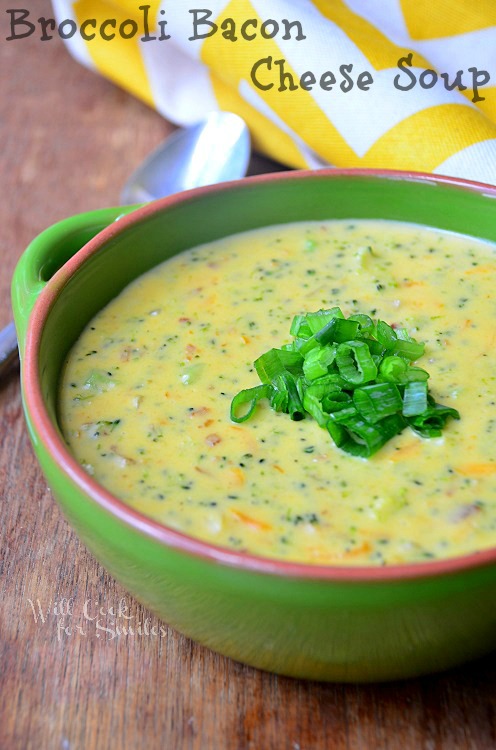 Make sure you follow me through your favorite blog reader (bloglovin or other), or follow me through | Facebook| Twitter| Pinterest|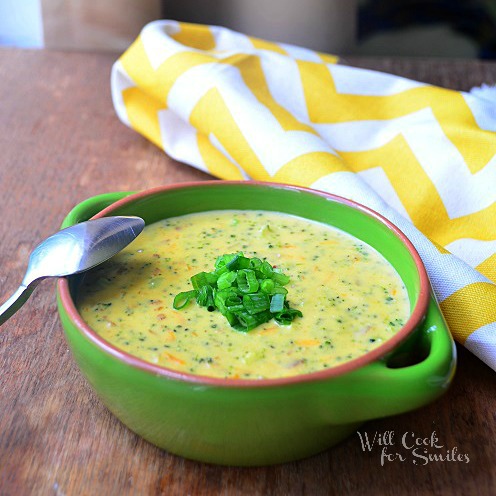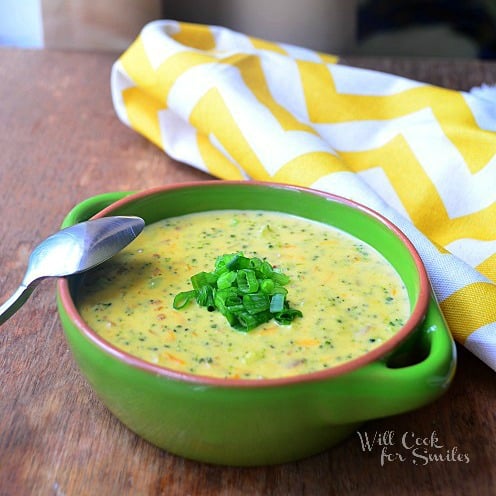 Don't miss any new posts and recipes from me, subscribe to E-MAIL! Just enter your email in the side bar, you will receive an email for confirmation. Confirm and you are all subscribed! HUGS!
***************
Remember to come back and link up to my party on Saturday night!!