You can't have a BBQ party or a potluck without some delicious Macaroni Salad. No need to get it at the store because it is so easy to make with a few simple ingredients. This is our favorite Macaroni Salad full of red onions, celery, bell peppers, herbs, and of course, delicious creamy dressing.
There are a few more BBQ sides you will need for the backyard party so don't forget the Southern Potato Salad, Green Goddess Macaroni Salad, and Italian Tortellini Salad.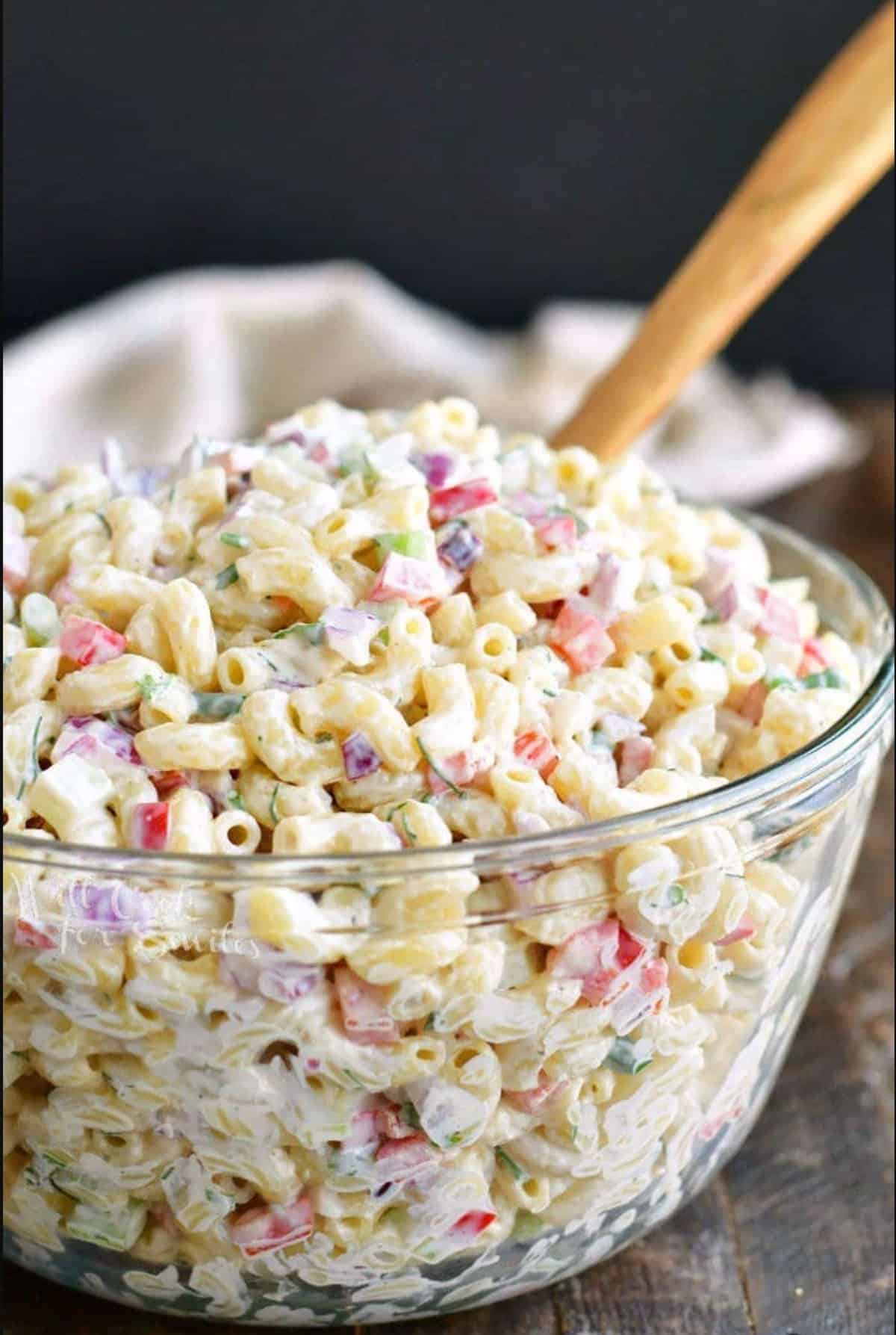 It's officially the start of the barbecue season and we are ready to have our weekly cookouts. Okay, so there is nothing official about when to start the season but I say if the weather is warm and sunny, it's the start. The weather has been absolutely beautiful and I fire up my grill every weekend.
No matter what you're grilling for the summer gathering, you need to have some sides to go with those big, juicy grilled steaks, burgers, and hot dogs. Family and friends expect to see the classics like potato salad, coleslaw, and of course, pasta salad. It's the quintessential summer cookout sides that many people take very seriously.  
To satisfy everyone's preference, I like to have a few different options but never do I NOT have a macaroni salad. It's a staple at every BBQ, every potluck, every summer picnic, or a day at the park. This is our favorite recipe that features fresh vegetables, tender macaroni, fresh herbs, and of course, creamy dressing. 
Ingredient Notes: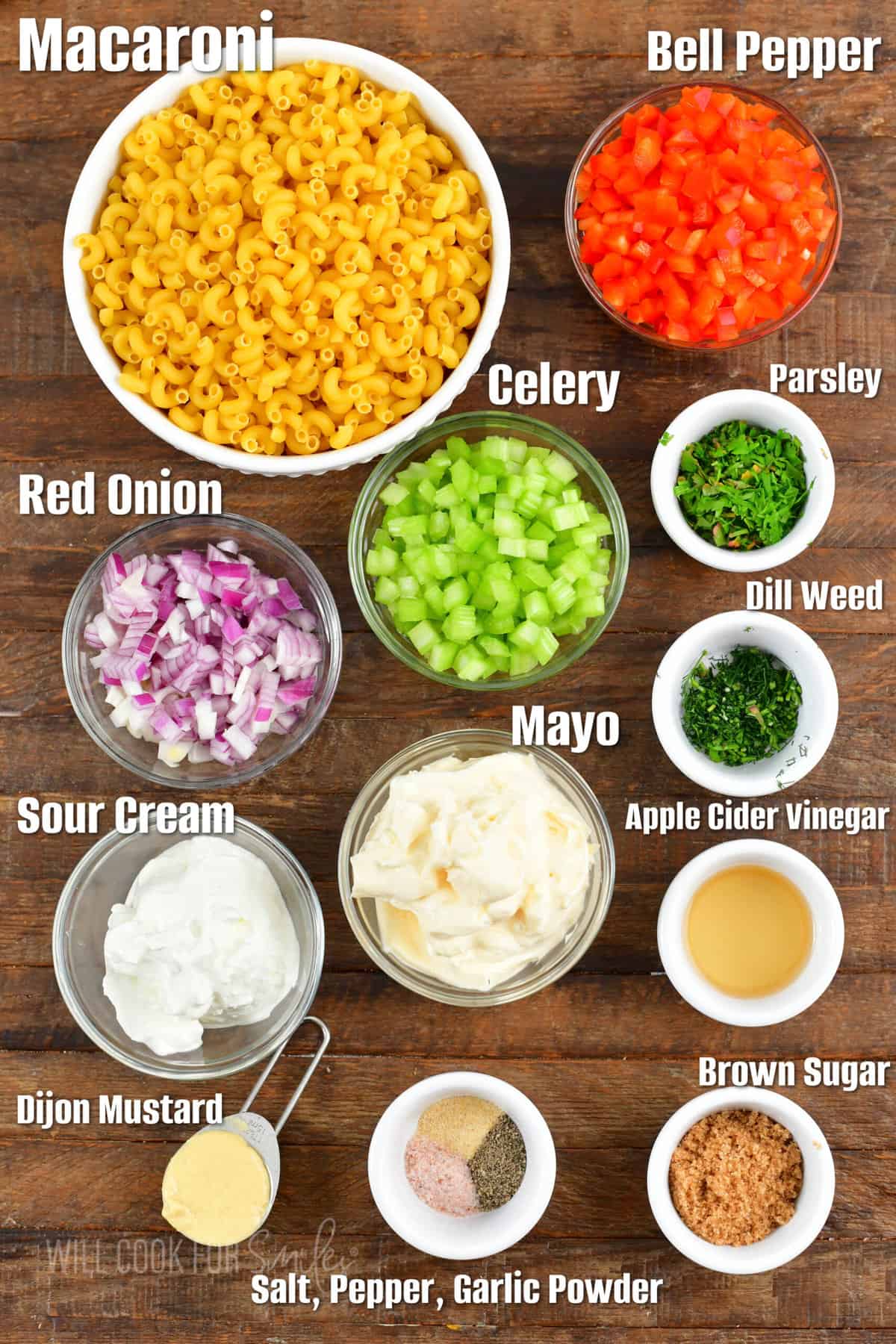 Ingredients in macaroni salad could truly be endless. I've seen some recipe that have everything but the kitchen sink in it, or maybe I just didn't notice the kitchen sink. In my family, we like to keep it pretty simple to let pasta shine and get some help from fresh, crunchy vegetables and smooth, creamy dressing. 
Pasta – of course you should start with pasta. Choose a smaller pasta like elbow macaroni or ditalini. (I don't recommend orichette in a macaroni salad because they tend to stick together and don't mix evenly with the dressing.)
Vegetables – let's start with the classics, you should definitely throw in some red onion, bell pepper, and celery. All three will give the salad a pleasant crunch and a burst of sweetness.
Herbs – I like to add some fresh parsley and fresh dill weed as well. My grandmother never served a salad without fresh herbs (and sometimes green onions) in it and it always brightened up the flavors. 
Dressing – I love this macaroni salad dressing! It's a simple mix of mayo, sour cream, Dijon mustard, white wine vinegar, brown sugar, garlic powder, salt, and black pepper. 
See recipe card for complete information on ingredients and quantities.
Cooking Instructions:
This is a really easy recipe that you can make in 30 minutes. All you have to do is cook the pasta, prep the veggies white it's cooking, make the dressing, cool, and mix.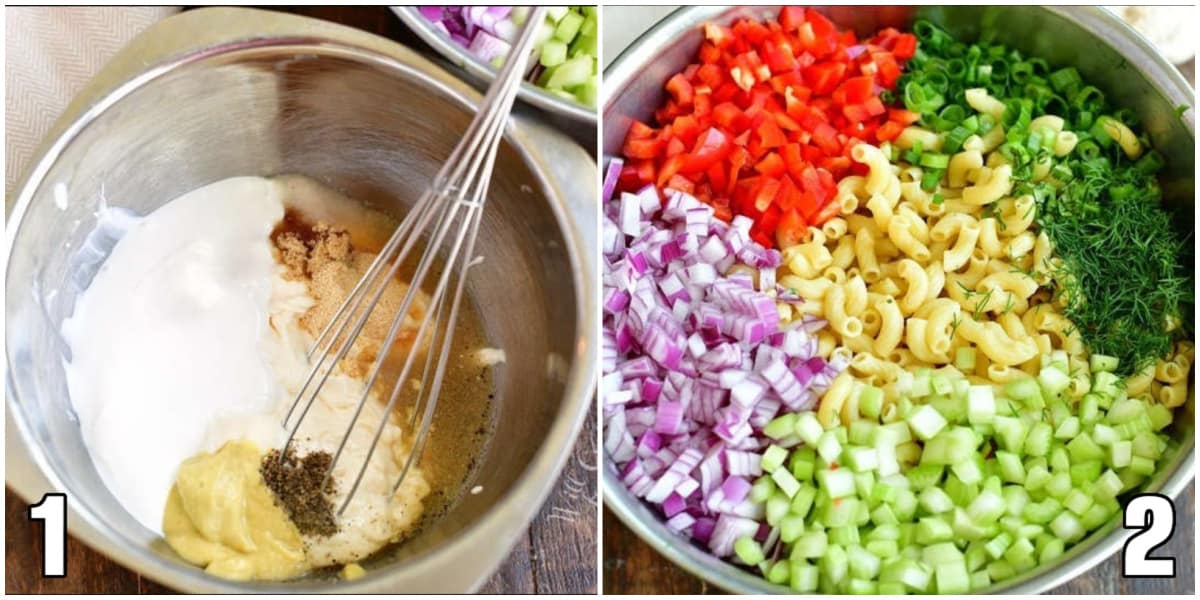 First: set pasta to cook according to the box instructions and remember to salt the water.
While pasta is cooking: whisk all of the ingredients for the dressing together (1) and dice the vegetables and herbs.
Cool: When pasta is ready, drain it and let it cool so it's not scalding hot. 
Mix: combine pasta with vegetables and herbs in a large mixing bowl (2) and then, pour in the dressing (3). Give it a good mix to make sure that all the ingredients are evenly coated with dressing (4).
Refrigerate: Cool mixed salad in the refrigerator for at least two hours before serving.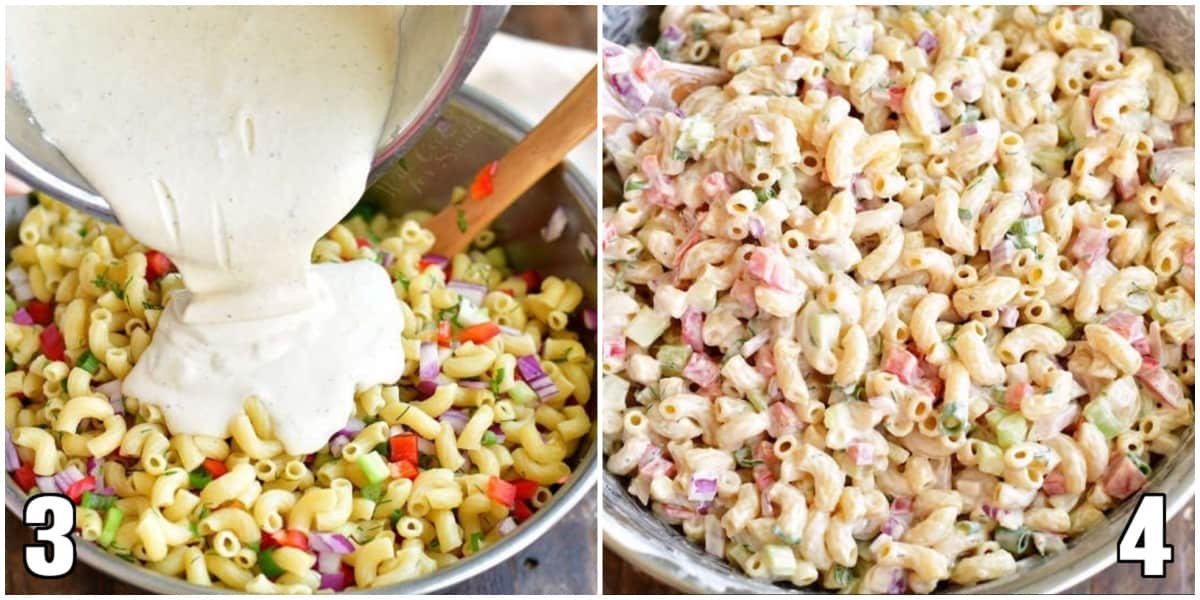 Recipe FAQs:
What is the difference between pasta salad and macaroni salad?
Simple answer: mayonnaise or no mayonnaise.

Traditionally, the difference between the two was in the way you dressed the salad. Macaroni salad featured small pasta like ditalini or small elbow macaroni and creamy, mayonnaise based dressing. Pasta salad, on the other hand, would have larger pasta like rotini or fusilli and dressed with an oil and vinegar based dressing. 
Pickles or No Pickles?
That is actually a personal preference! My husband and I agree that sweet pickles or relish overpower every other flavors in the salad. When I add sweet pickles, that is all I can taste and it changes the flavor of the dressing too. 

I've even surveyed several friends and family, to see if they like pickles or relish in macaroni salad and most of them said that they prefer without. So if you're with us, put away the jar of pickles for another time. But, if you truly love those macaroni salad with pickles, feel free to add about 1/2 cup of finely diced sweet pickles.
How To Extend Life Of Fresh Herbs:
Fresh herbs truly provide the best flavor but I know it can be a pain to buy a bunch of parsley and dill weed for one recipe. Personally, I can totally use up a bunch of parsley in a week but I do have a couple of tricks that will help extend their life. 

You can either freeze them, or keep them fresh in the refrigerator. To freeze herbs, make sure to wash them first and spread them out on a paper towel to dry off the water. Mince them and place in a freezer zip-lock bag. Get all the air out, seal, and freeze. 

The best way to keep the herbs fresh for about a week to ten days is to store them in the refrigerator, in a zip-lock bag. Wrap the whole bunch in a damp paper towel first and then place it in the bag. Close and keep in the refrigerator.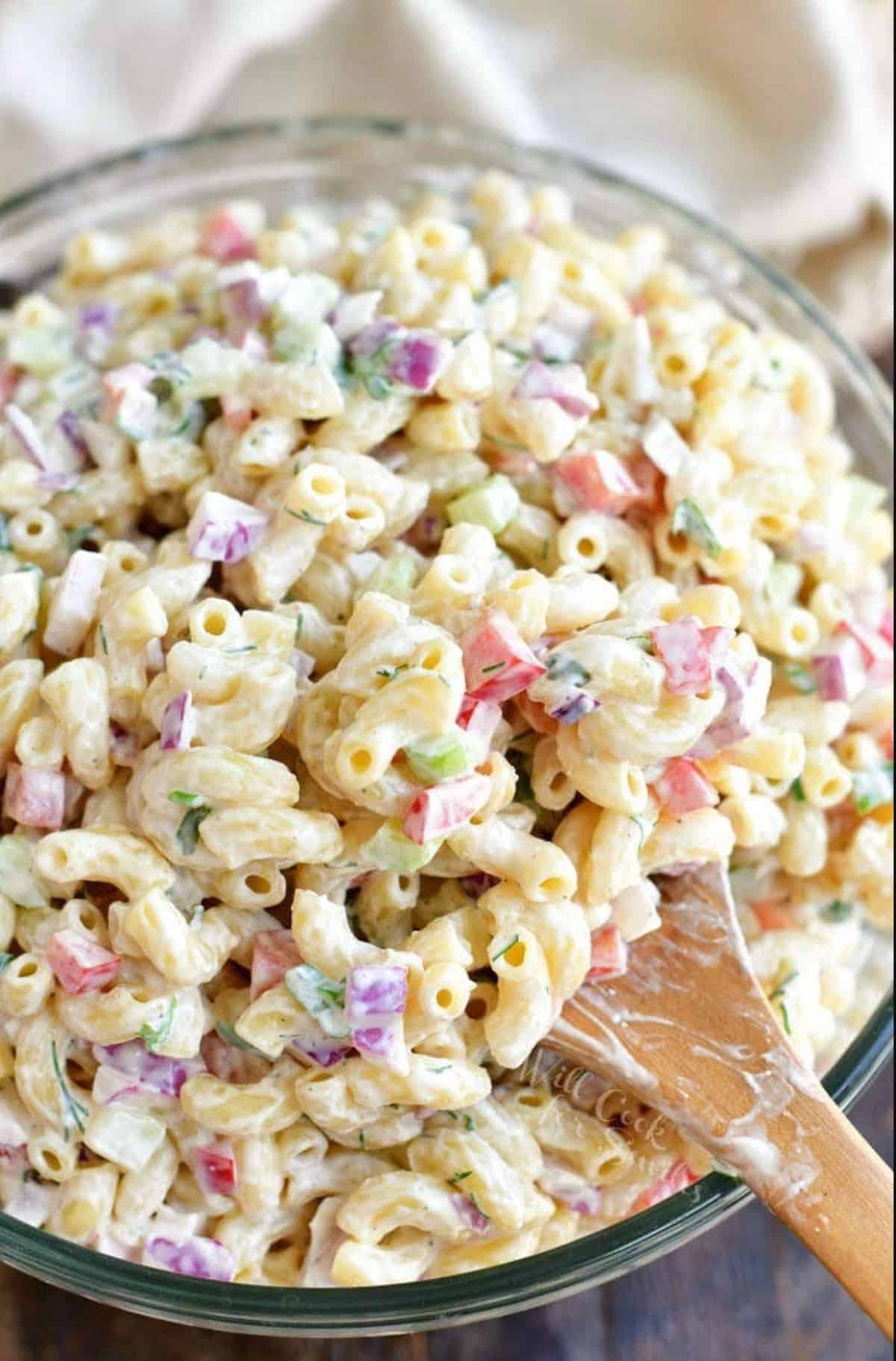 Make It Ahead
Pasta and macaroni salads are wonderful recipes to make ahead. I actually prefer to make macaroni salad the night before because all the ingredients have a chance to mix and mingle and marinate with each other. Pasta soaks up all those tasty flavors and tastes so much better a few hours after you make it. 
Just make sure to keep it refrigerated until you're ready to serve it. You don't want to leave a creamy salad out at room temperature for a long time.
Storing
Store all the leftovers in the refrigerator too. When properly stored in an air-tight container, in the refrigerator, macaroni salad should last 3 to 4 days. 
More Sides For BBQs To Try: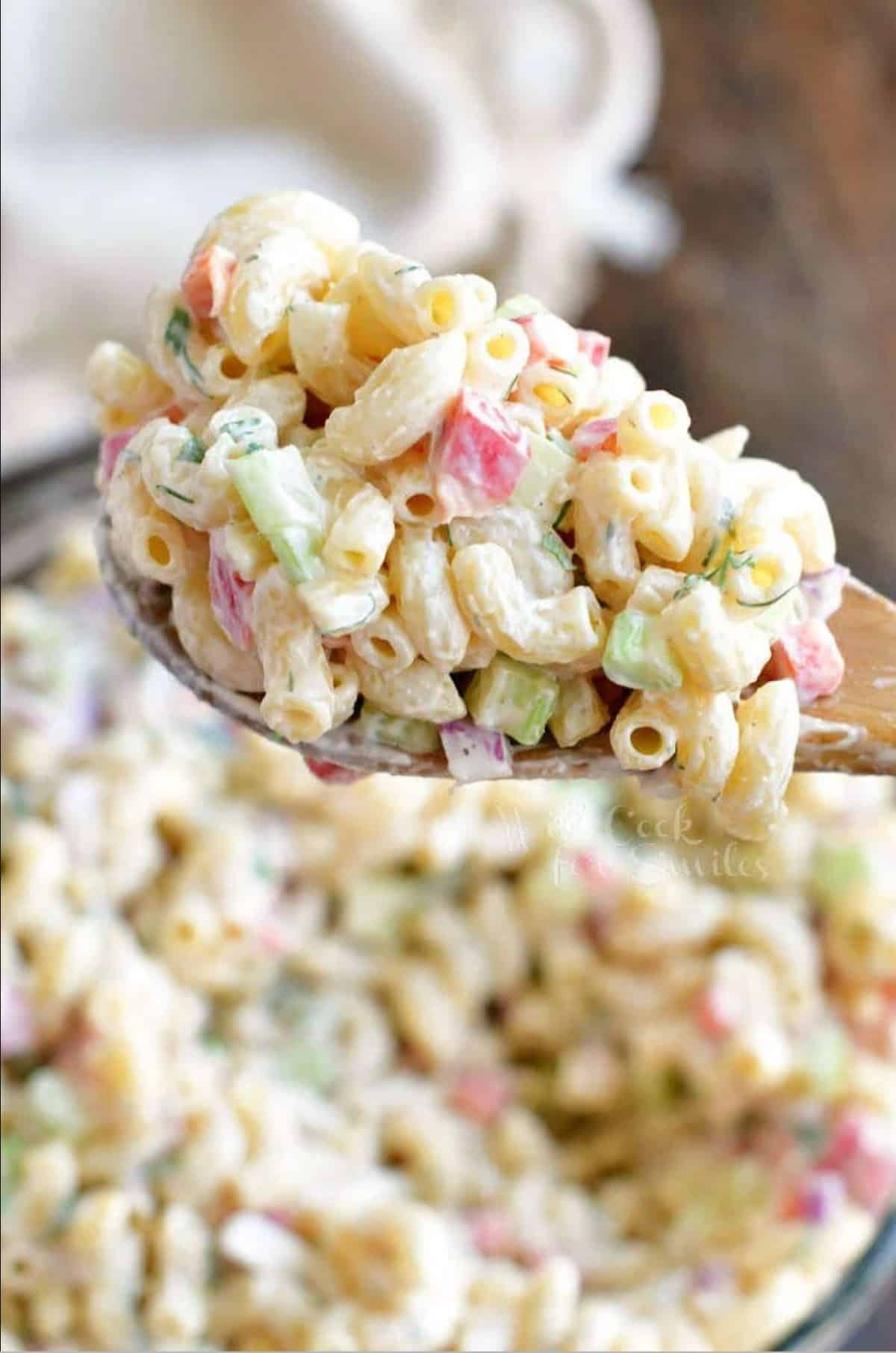 If you've made my macaroni salad recipe and found a lot of good information here, PLEASE leave a 🌟 star rating! Let me know how you liked it by leaving the 📝 comment below as well. Don't forget to subscribe to my newsletter!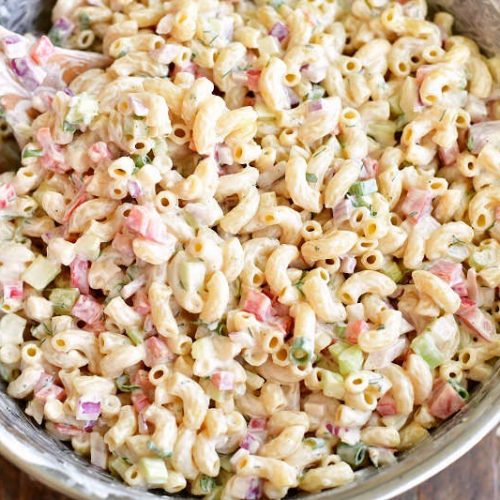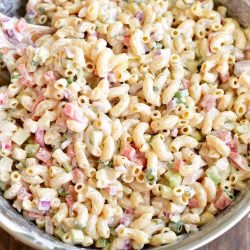 Macaroni Salad
This is our favorite Macaroni Salad full of red onions, celery, bell peppers, herbs, and of course, delicious creamy dressing.
Print
Pin
Save
Saved!
Rate
Ingredients
1

lb

uncooked macaroni pasta

1/2

cup

diced red onion

1

medium red bell pepper

3

short celery ribs

1/4

cup

diced green onion

2

tbsp

minced fresh parsley

1

tbsp

minced fresh dill weed
Dressing:
1

cup

mayonnaise

1/2

cup

sour cream

1

tbsp

Dijon Mustard

2

tbsp

apple cider vinegar

1 1/2

tbsp

brown sugar

1

tsp

garlic powder

1

tsp

black pepper

1

tsp

salt

more or less to taste
Instructions
Cook pasta in salted water according to box instructions.

Drain cooked pasta and let it cook until no longer scalding hot.

Dice all vegetables and herbs while pasta is cooking and whisk all ingredients for the dressing in a separate bowl.

In a large mixing bowl, combine pasta vegetables, and herbs and mix.

Pour dressing into the bowl with the pasta and mix everything together until dressing is evenly incorporated throughout.

Cover the bowl with plastic wrap or transfer the salad into a food storage container with a lid. Refrigerate for at least 2 hours before serving.
Notes
Storing: Store all the leftovers in the refrigerator. When properly stored in an air-tight container, in the refrigerator, macaroni salad should last 3 to 4 days. 
Making Ahead: You can prepare the whole salad a day ahead of time and store it in a refrigerator, in an air-tight food storage container. 
Can I Add Pickles? While I personally feel that pickles overpower the macaroni salad and the dressing flavor, some people do like to add pickles. It comes down to a personal preference whether you want to add sweet pickles or not. If you do, add 1/2 cup of finely diced sweet pickles.
Nutrition
Calories:
451
kcal
|
Carbohydrates:
48
g
|
Protein:
8
g
|
Fat:
25
g
|
Saturated Fat:
5
g
|
Cholesterol:
19
mg
|
Sodium:
509
mg
|
Potassium:
217
mg
|
Fiber:
3
g
|
Sugar:
6
g
|
Vitamin A:
696
IU
|
Vitamin C:
22
mg
|
Calcium:
38
mg
|
Iron:
1
mg
Tried this recipe?
Mention @willcookforsmiles and tag #willcookforsmiles