Prosciutto and Melon is a fun and easy classic Italian appetizer that's perfect for the summer. This is a no-bake recipe you're going to love! All you need is a fresh and juicy cantaloupe and thinly sliced prosciutto. To make it more interesting, add some fresh mozzarella balls and a sweet and tangy balsamic reduction.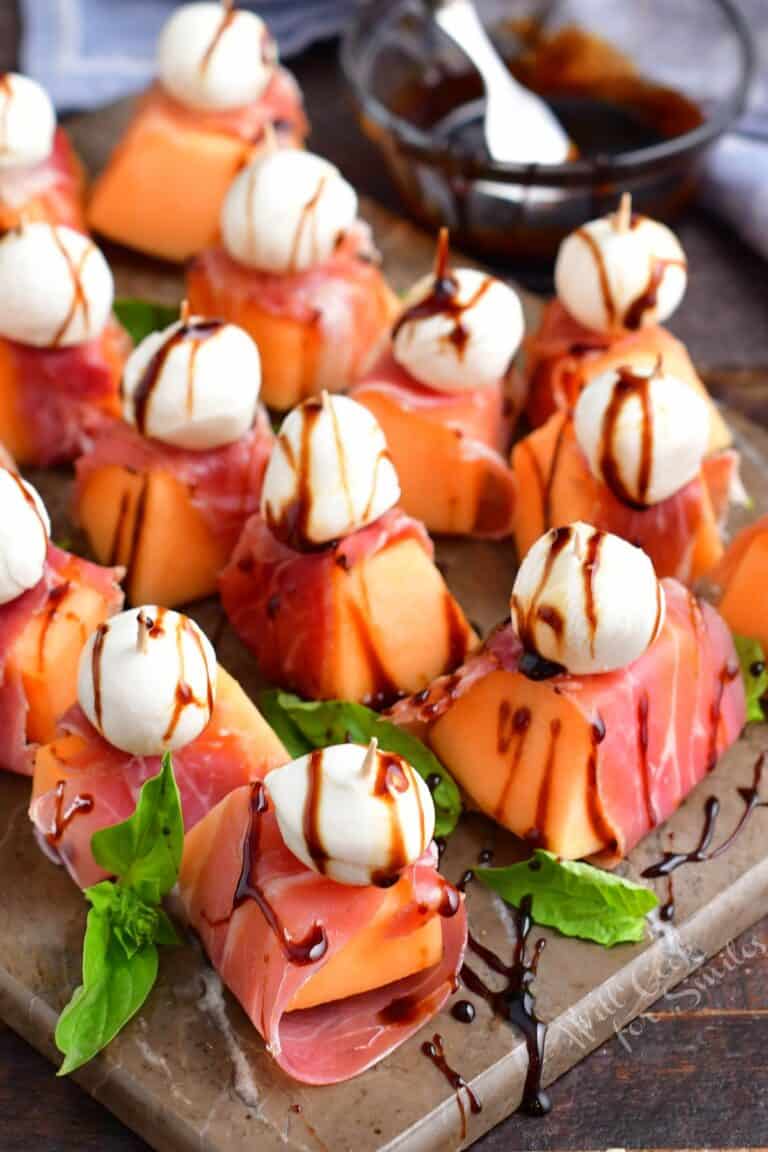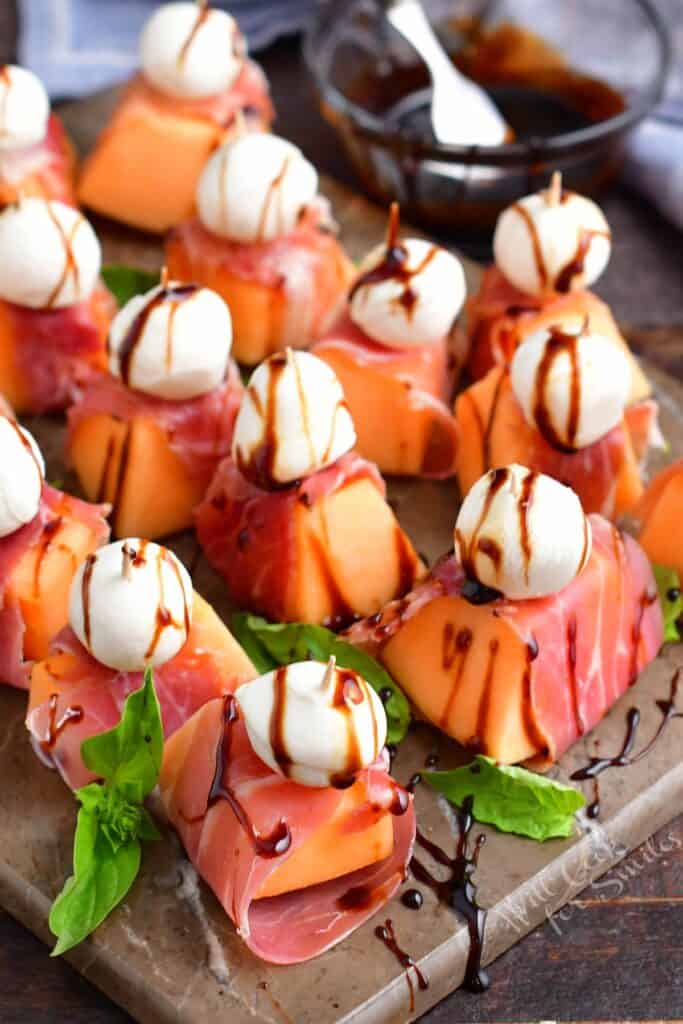 Prosciutto and Melon
Sweet and salty… Is there a better flavor combination? In my opinion – no! This classic Italian appetizer always satisfies my guests who also love the unique combination of sweet and juicy melon with salty, savory prosciutto.
While some recipes call for simply prosciutto and melon, I like to elevate mine with mozzarella and balsamic reduction. It's a very easy way to elevate the flavor of this dish, even more than it already is!
I know that the mozzarella and the balsamic reduction are not exactly traditional additions here, but they really add fabulous flavors. I especially love the addition of the balsamic reduction! It's sweet enough to compliment the melon, and tangy enough to pair famously with the prosciutto.
Origin of Prosciutto and Melon
Prosciutto e melone is a classic Italian appetizer that combines salty cured meat with sweet and juicy fruit. The origin of this classic Italian antipasti goes back centuries! A legend has it that a famous doctor of the time came up with this simple combination of cured meat and fruit as a health boost. He believed that combining cold, wet, and juicy ingredients with dry and warm ingredients would balance out body's heat.
This food combination represented the natural elements of fire, water, earth, and air. For centuries, this sweet and salty combination of cured ham and melon has been popular and even inspired countless other food combinations that we love today. Think of the sweet and sour, sweet and salty, and tangy and sweet combinations we just can't get enough of!
Ingredients You'll Nee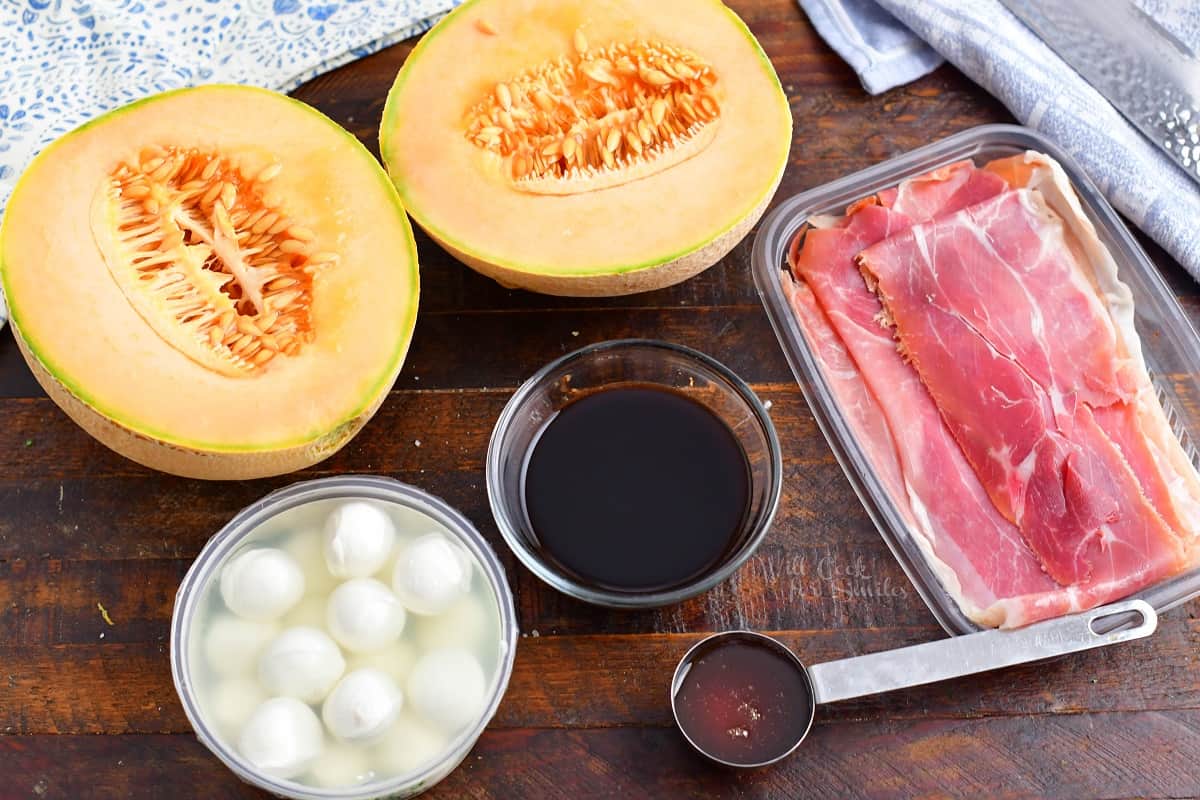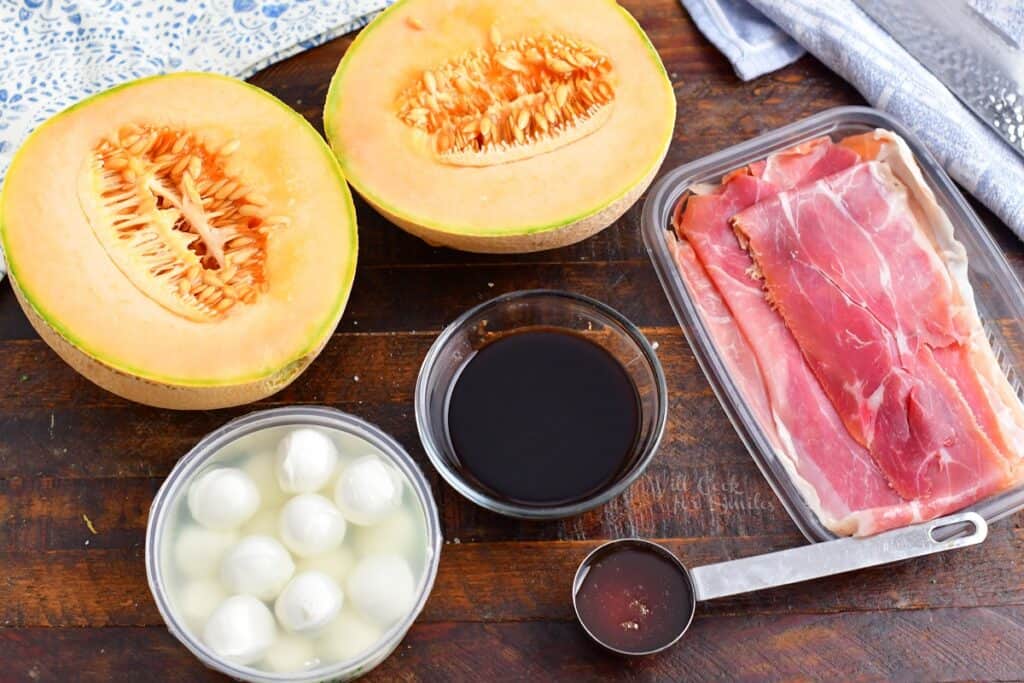 Cantaloupe – pick out an nice and ripe cantaloupe. Press it gently all around to make sure there are no soft spots. Make sure the skin under the netting is not green but tan. And finally, smell it because a ripe cantaloupe has a very pleasant aroma.
Prosciutto – This thin sliced salty Italian meat is what really wakes up the taste buds! If you have any prosciutto left over, use it deliciously in an Italian Garlic Bread Grilled Cheese.
Mozzarella Balls – Buying a container of fresh mozzarella balls in the deli section of your grocery store.
Balsamic Vinaigrette – You'll need this to make balsamic reduction if you're going with the homemade route!
Brown Sugar – you will need a little brown sugar to sweeten balsamic reduction.
What is prosciutto?
Prosciutto in the US sounds super fancy, doesn't it? But, in Italian, "prosciutto" simply translates into "ham." Prosciutto is basically dry-cured ham made specifically from the hind pork leg. It's made only with high quality pork and undergoes a strict salt curing and dry-aging process that lasts several months. Each region actually has it's own exact process for dry-aging the ham, and several regions have strict requirement for the meat itself.
Prosciutto is sweet, salty, very delicate, and best sliced paper thin. Some prosciutto is very simple and is only seasoned with salt, while other variations may have a much more spice variety and hint of black pepper, garlic, rosemary, and other spices. The color varies in shades of pink and sometimes light brown tones. Longer aged prosciutto will have a much deeper and more complex flavor.
How to Make Prosciutto and Melon
To assemble simply prosciutto and melon, all you need to do is wrap a half or a full slice of prosciutto around a cube of melon. Then, secure it with a toothpick so it stays in place.
If you want to dress these up a bit, there are a few more steps in the process.
Mozzarella – add a ball of mozzarella to the top of the prosciutto wrapped melon.
Balsamic reduction – Combine the balsamic reduction and brown sugar in a small sauce pot. Bring the mixture to a simmer. Once simmering, reduce the heat and slowly simmer the reduction, stirring occasionally. Allow the mixture to thicken, which should take approximately 7-10 minutes.
Remove the pot from the heat. Pour the balsamic reduction into a separate bowl to help it cool down. When cooled, drizzle it all over the top.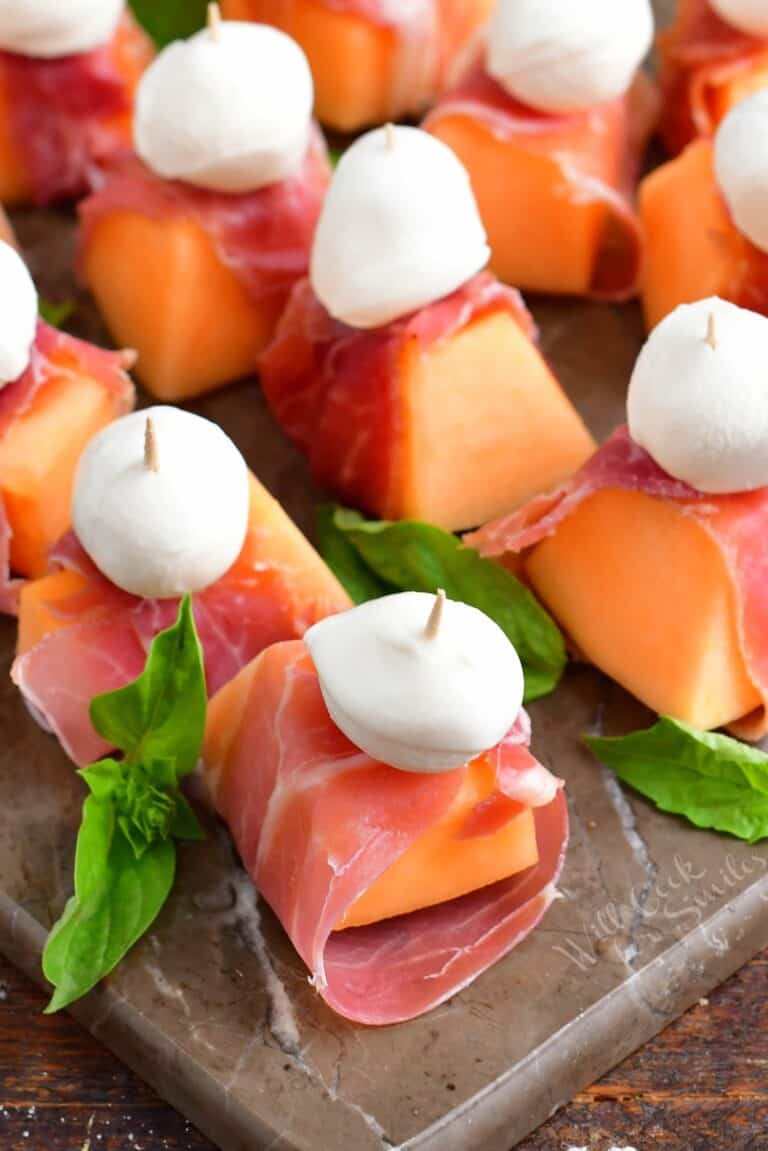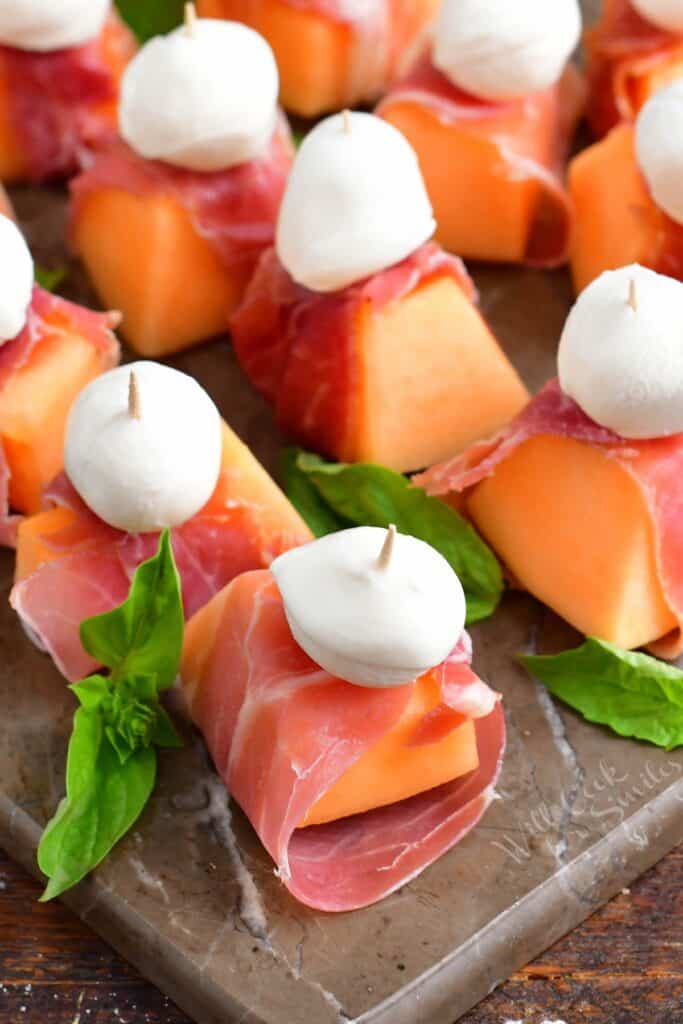 Helpful Tips
Try to balance prosciutto and melon where there is not too much sweet melon. So if you have a large cube of melon, you may need to wrap a whole slice of prosciutto instead of just half.
Note the thickness if you prosciutto as well. If it's very, very thin, use a whole slice.
More Great Party Appetizers To Try:
Bacon Wrapped Scallops – there is a wonderful flavor combination between the salty bacon, the sweet and savory seasoning on the scallops, and slightly sweet natural flavor of scallops.
Beer Batter Onion Rings – beer batter onion rings are perfectly crispy, crunchy, and slightly sweet.
Cocktail Meatballs – the meatballs are tender and juicy made with ground beef and ground pork, baked in the oven, and then, coated in outstanding sweet and spicy grape jelly sauce.
Crab Stuffed Mushrooms – these stuffed mushrooms are a piece of food heaven with a perfect combination of cream cheese, herbs, crab meat, and grated Parmesan cheese.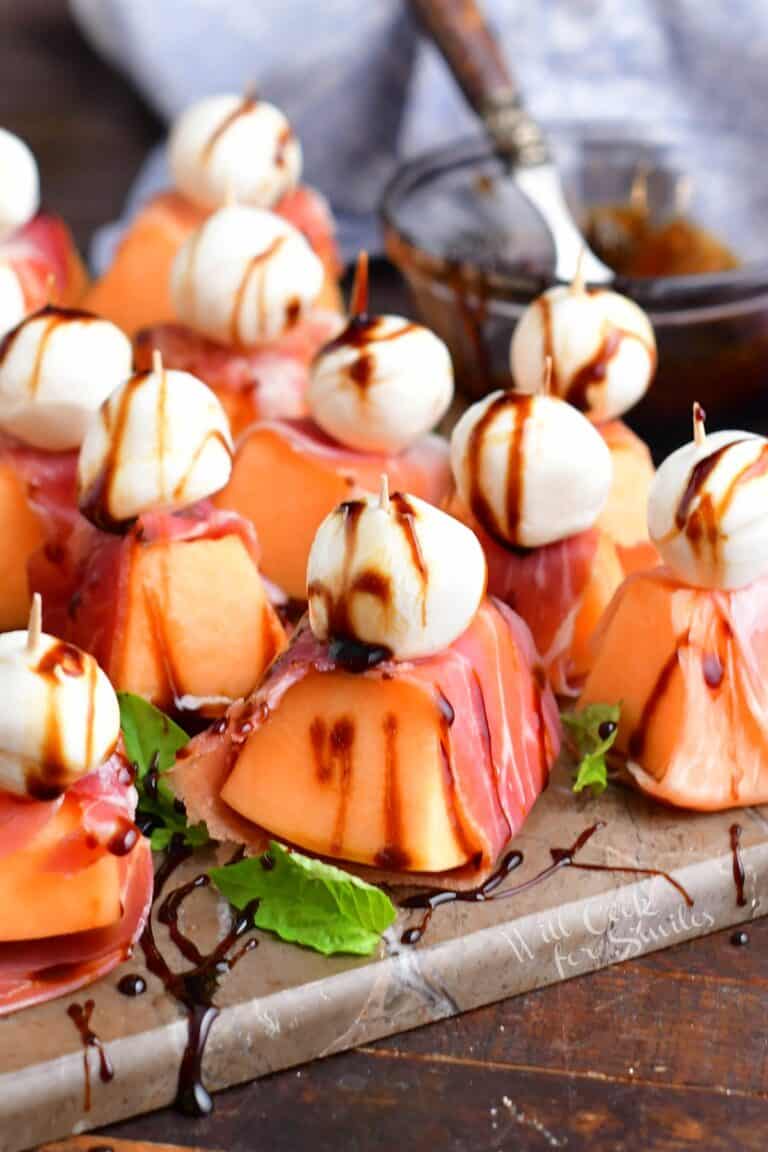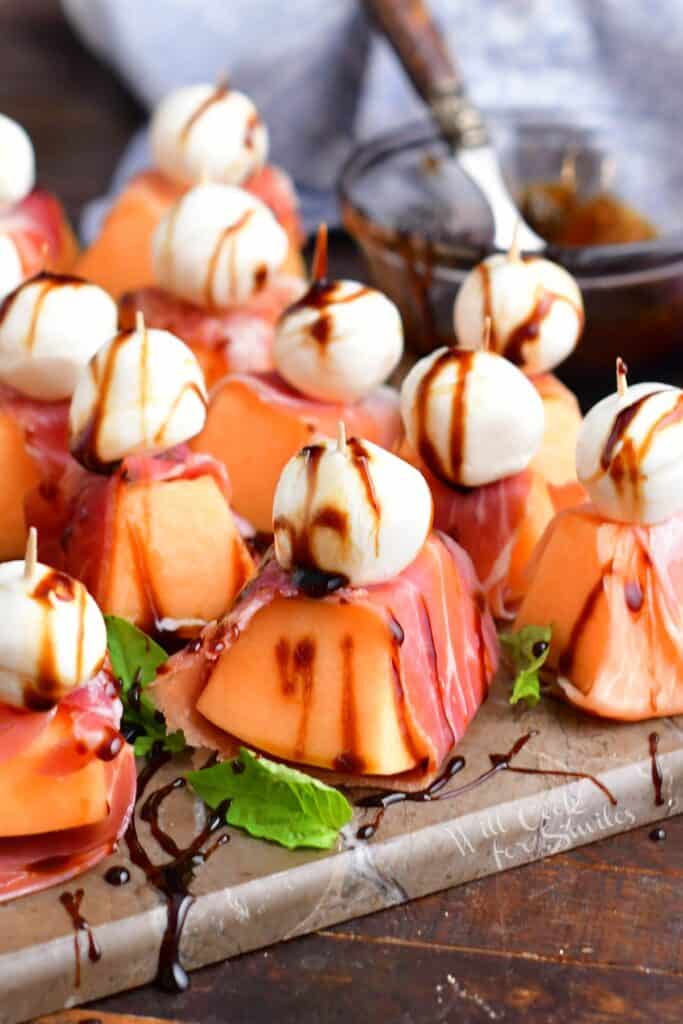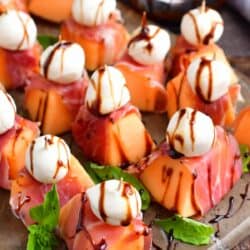 Prosciutto and Melon
Prosciutto and Melon is a fun and easy classic Italian appetizer made with fresh and juicy cantaloupe and thinly sliced prosciutto. To make it more interesting, add some fresh mozzarella balls and a sweet and tangy balsamic reduction.
Print
Save
Saved!
Rate
Ingredients
1

cantaloupe

that weight 2 1/2-3 pounds

6-8

oz

prosciutto
Optional addition:
8

oz

fresh mozzarella balls

1/2

cup

balsamic vinaigrette

1

tbsp

brown sugar
Instructions
Cut the melon in half and take out all the seeds. Peel the melon and cut each half into cubes. Keep the cubes no bigger than about an inch.

Wrap 1/2 a slice of prosciutto around each cube and secure it with a toothpick. (If the cube of melon is pretty big of the prosciutto is very thin, you can wrap a whole slice around the melon cube.)
With Mozzarella and Balsamic Reduction:
For balsamic reduction: Combine balsamic vinegar and brown sugar in a small sauce pot, over medium heat, and bring mixture to simmer.

Once it starts to simmer, turn the heat down to medium-low. Let vinegar slow-simmer, stirring occasionally, until the mixture reduces and thickens. It should be thick enough to coats the spoon but note that as the reduction cools, it will get thicker. It will take 7-10 minutes but please note, that it will start to thicken fast during the last couple of minutes so keep an eye on it. Also, remember that a reduction continues to thicken as it cools!

Take the pot off the heat and pour the balsamic reduction into a bowl to cool down.

Add a mozzarella ball in top of each prosciutto wrapped melon, on top of the toothpick and drizzle with balsamic reduction.
Notes
Note: nutritional value is calculated for the prosciutto wrapped melon with mozzarella and balsamic reduction.
Nutrition
Calories:
307
kcal
|
Carbohydrates:
11
g
|
Protein:
13
g
|
Fat:
23
g
|
Saturated Fat:
9
g
|
Polyunsaturated Fat:
2
g
|
Monounsaturated Fat:
7
g
|
Trans Fat:
1
g
|
Cholesterol:
49
mg
|
Sodium:
528
mg
|
Potassium:
333
mg
|
Fiber:
1
g
|
Sugar:
10
g
|
Vitamin A:
3377
IU
|
Vitamin C:
34
mg
|
Calcium:
203
mg
|
Iron:
1
mg
Tried this recipe?
Mention @willcookforsmiles and tag #willcookforsmiles