This amazing Spiked Hot Chocolate is made delicious with Godiva chocolate liqueur and bourbon. This is the best combination of liquor to compliment homemade smooth, rich hot chocolate. All you will need to make the best holiday season is a warm blanket, a roaring fireplace, holiday movies, and a mug of spiked hot chocolate!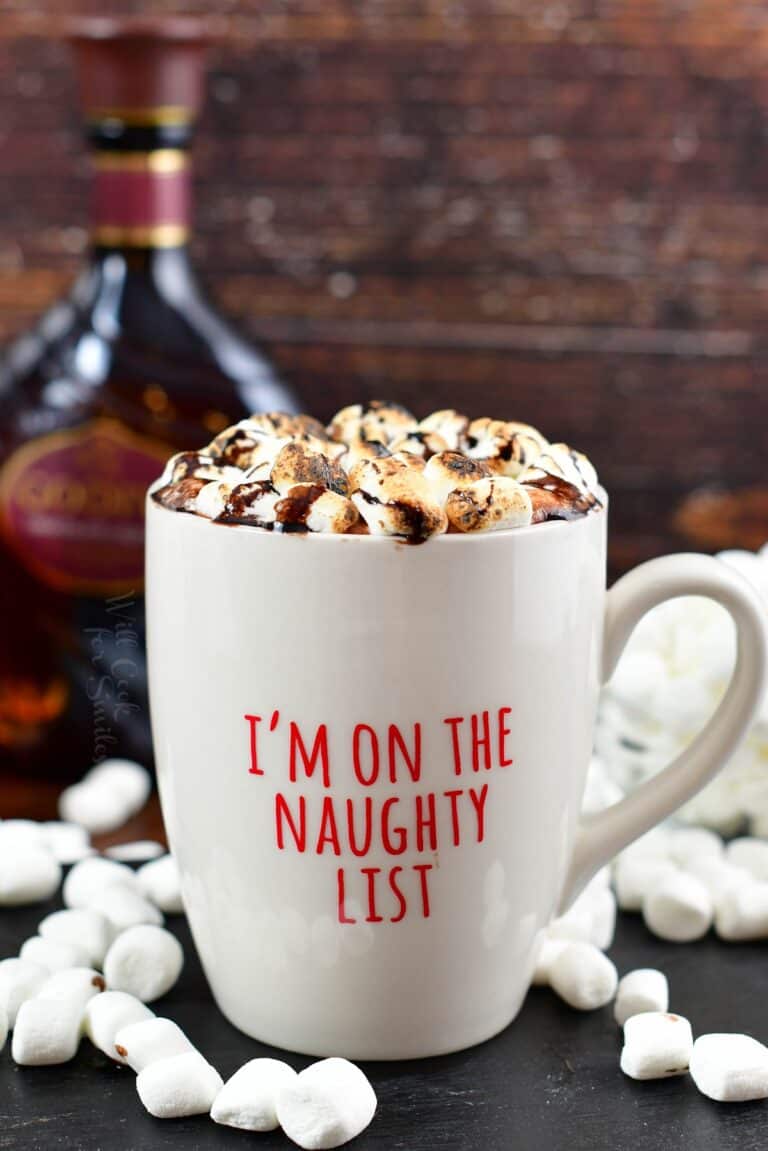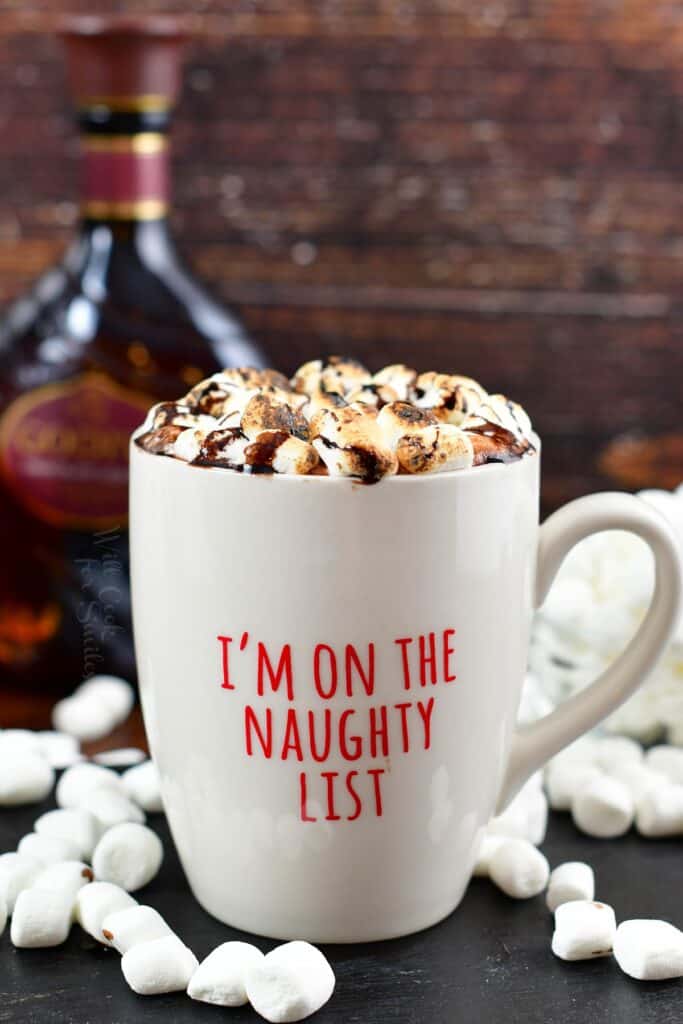 Spiked Hot Chocolate
Kids have all the fun during the holiday season. Well, I think adults should have just as much fun, and what can be more fun than spiked hot chocolate?! Each sip of this luxuriously rich and creamy hot chocolate will celebrate your inner child, all while the Godiva chocolate liqueur and bourbon keep your adult self all merry and bright. It's a more indulgent cocktail than what you may be used to, but it's the holiday season, so why not treat yourself?
Usually, I love to make a double batch of my favorite hot chocolate every time kids ask for it. I can't help it – I only get to make it for them when it's cold out, and since I live in Florida, it's almost never cold out. So I make half for the kids, and half for the grown-ups. That way we can all enjoy sipping on our favorite hot chocolate while we watch Christmas movies!
I've spent a long time testing my hot chocolate recipe and making all of our family and friends taste the variations and tell me their favorites. After several trials, a clear favorite has emerged, and that is now our go-to hot chocolate recipe. All we have to do for a cozy movie night with the hubby is to add a great combination of liquor to it. I'm telling you guys, this is the BEST way to feel that Christmas cheer!
Ingredients For Spiked Hot Chocolate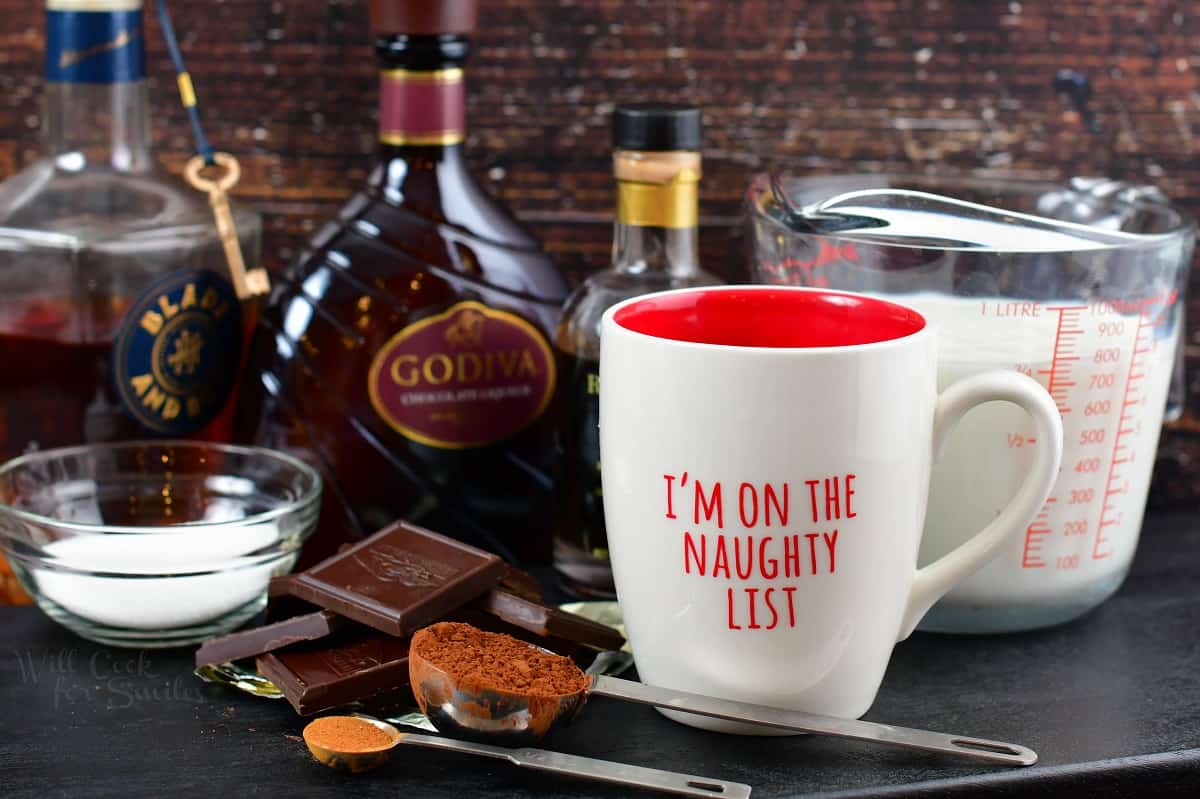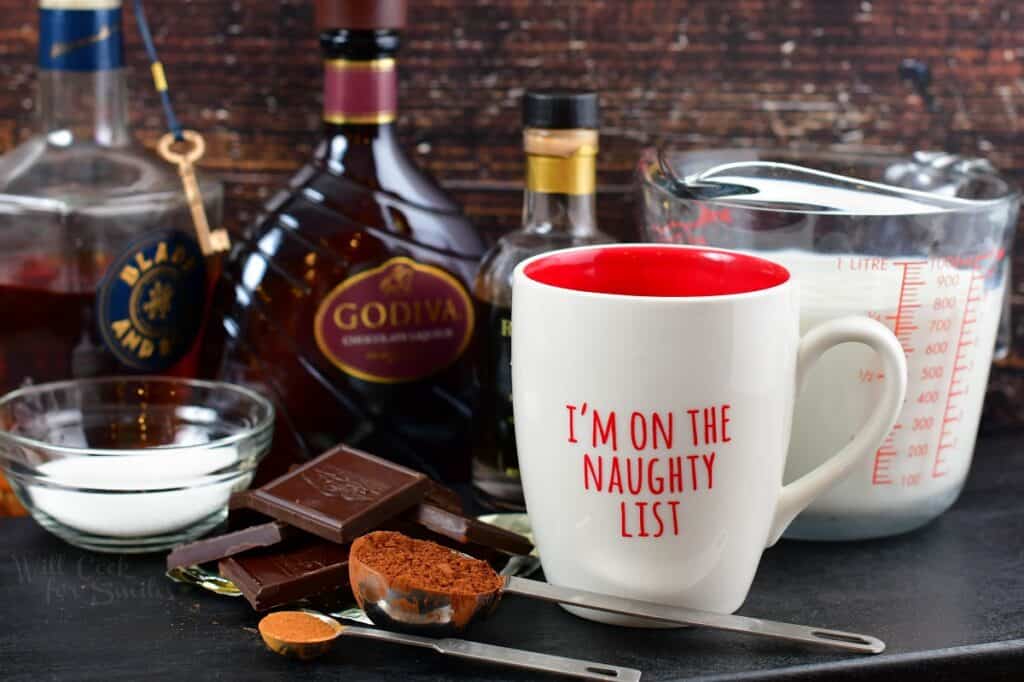 Milk – For my hot chocolate, I like to use 2% milk for the creamiest consistency. If you need to use milk substitute, I recommend oat milk but make sure to use a little less sugar because oat milk is slightly sweet.
Chocolate – I recommend bittersweet or dark chocolate for a deeper, more intense, and less sweet chocolate flavor.
Cocoa Powder – Unsweetened 100% cocoa powder will help enhance the richness of the bittersweet or dark chocolate.
Sugar – The amount used is perfect for my tastes, and I prefer a richer hot chocolate. You can add more or less sugar depending on your preferences.
Vanilla Extract – Use pure vanilla extract to really get the most out of the flavor profile here.
Cinnamon – Just a little cinnamon adds a warm, cozy touch to the drink.
Godiva Chocolate Liqueur – You can use another brand if you'd like, but I find that Godiva has the perfect flavor and richness that's ideal for this drink.
Bourbon – Always keep in mind that while you don't need top shelf bourbon, you do want to steer clear of the bottom shelf. Your cocktail is only ever as good as the liquor you use to make it.
What alcohol is best in a spiked hot chocolate?
I find that chocolate liqueur doesn't change the natural flavor of chocolate, but it adds warmth and depth to the drink itself. Bourbon is a wonderful counterpart to chocolate, and goes so well together in desserts. So it goes perfectly in a hot chocolate as well!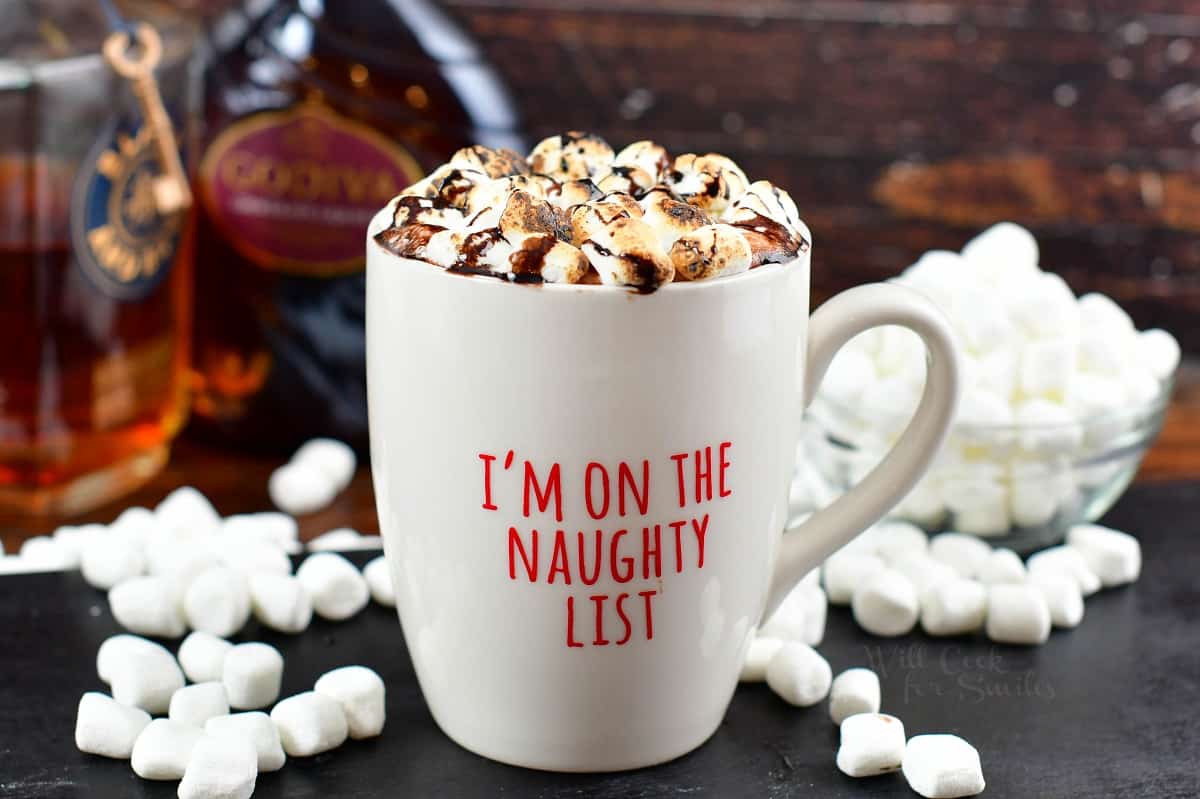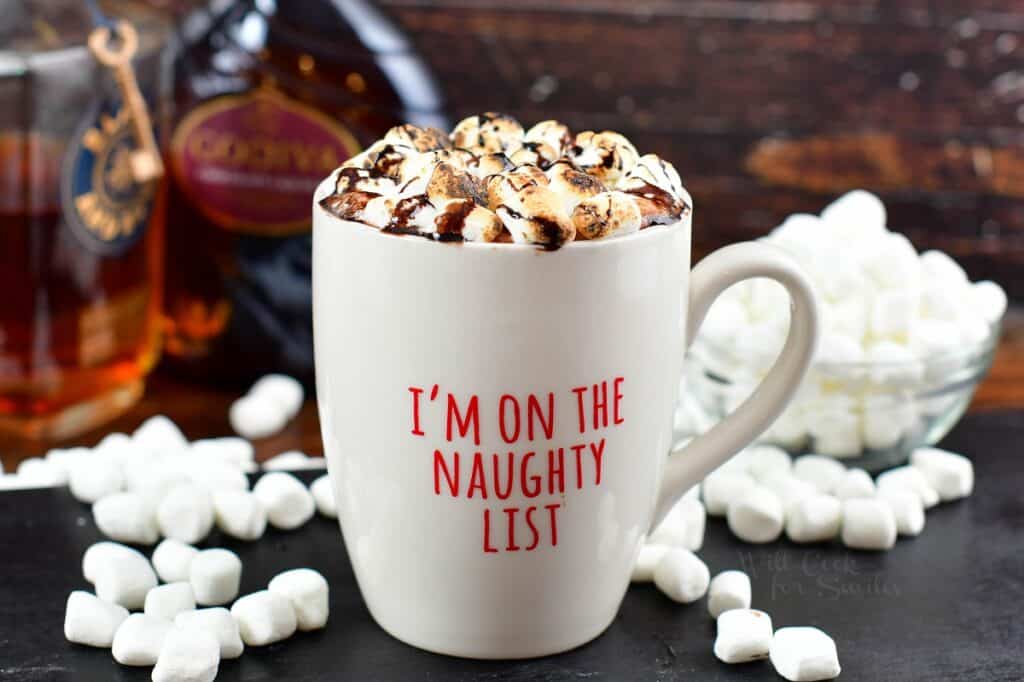 Difference Between Natural and Dutch Process Cocoa Powder
Cocoa powder is essentially cocoa beans that are fermented, dried, roasted, and ground into the powder. Natural cocoa powder is lighter in color, has a higher acidity level and a more bitter, rich chocolate flavor. It's good for baking chocolate cakes, brownies, and other baked goods.
Dutch cocoa powder is deeper and darker in color and has a lower acidity because it is alkalized with the Dutching process. The main difference will come in during baking because you need to know which leavener to use. Since we are making hot chocolate and not baking, it won't matter much which one you use.
How to Make Spiked Hot Chocolate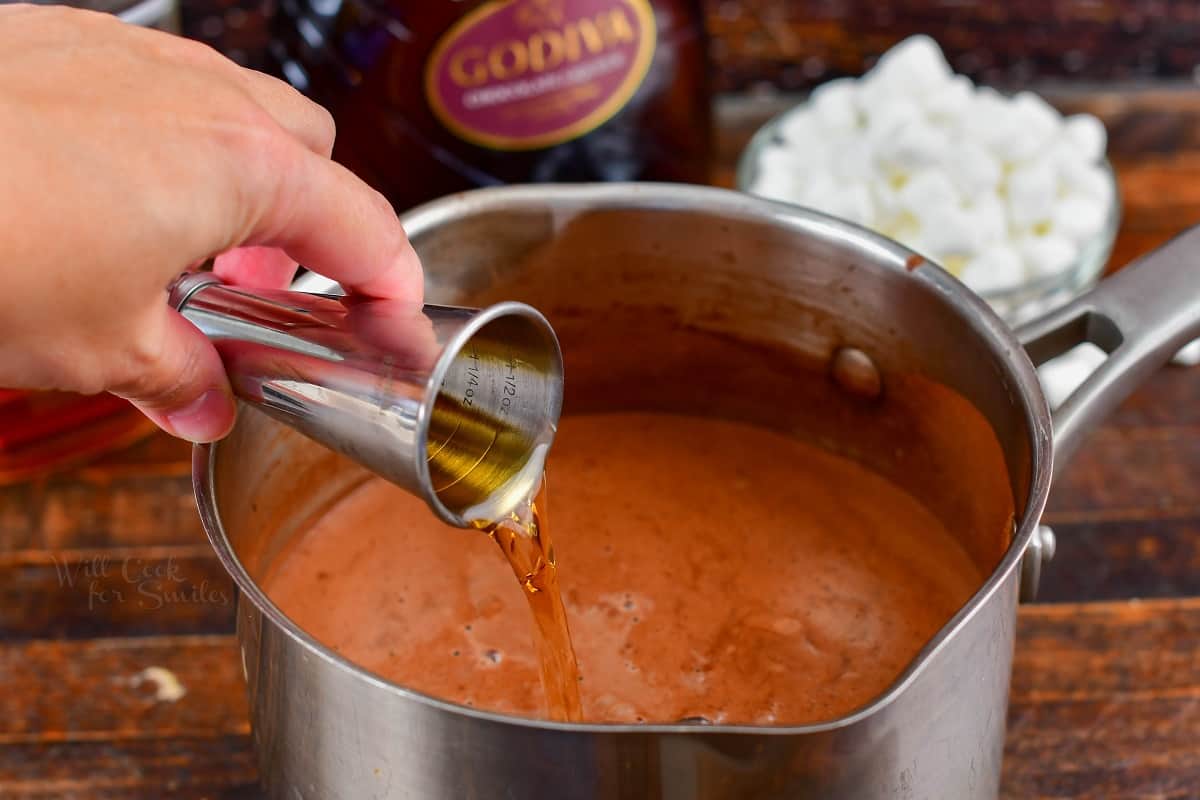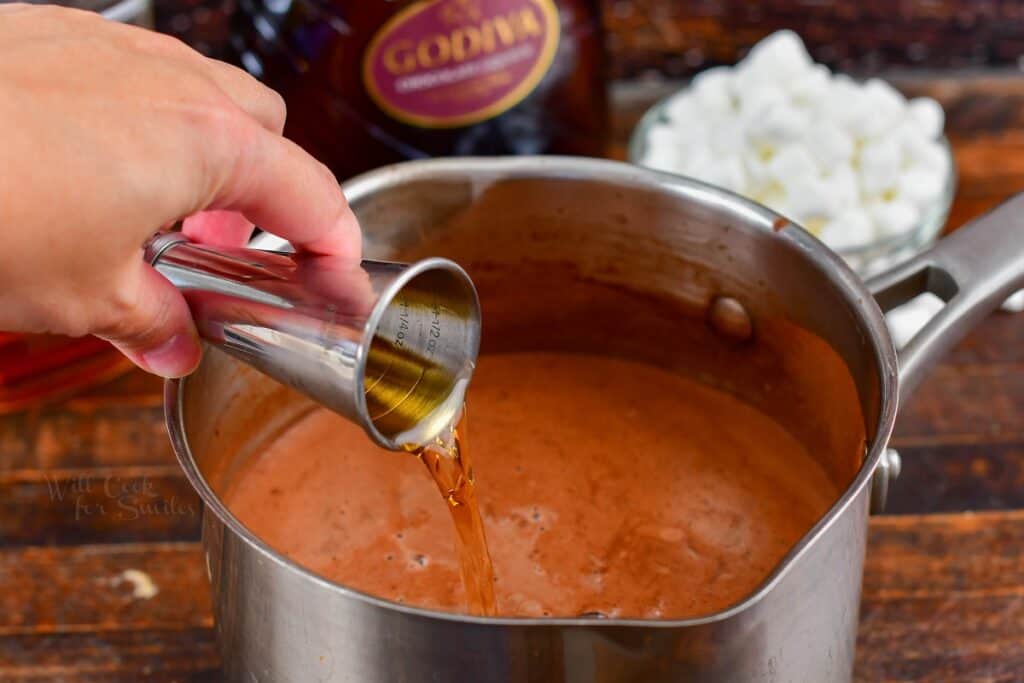 All you need is about 15 minutes of your time, a sauce pot, and those few simple ingredients. Just heat it up, take it off the heat, and make it boozy. That's it!
Start by chopping up the chocolate bar into small pieces.
Next, heat up the milk in a sauce pot. Make sure it's hot, but not simmering. Do NOT let this mixture ever reach a boil!
Using a strainer, sift the cocoa powder to ensure that there aren't any clumps. Then, whisk in the sifted cocoa powder, chocolate, sugar, and vanilla until all ingredients are fully incorporated.
When the milks start to simmer, lower the heat and continue cooking for just a few more minutes.
Remove the mixture from the heat and stir in the chocolate liqueur and bourbon.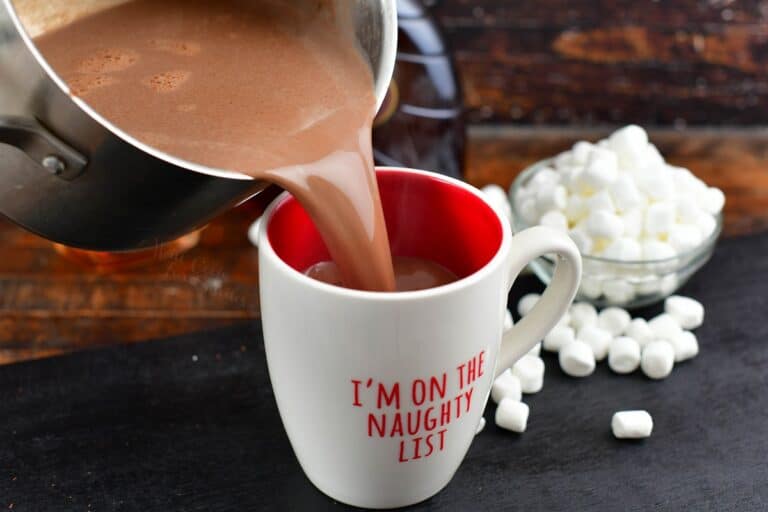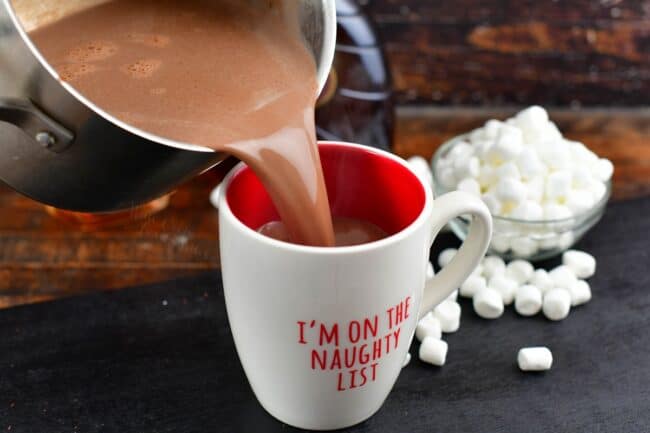 Serve with the toppings of your choice, and enjoy!
Storing
If you're planning on making this cocktail ahead of time, you can make hot chocolate without the liquors and just reheat if when needed. Add the chocolate liquor and bourbon after reheating. Reheat hot chocolate in a small sauce pan, over medium-low heat, just until heated through.
Some More Hot Chocolate Recipes To Try!
Red Wine Hot Chocolate – a delicious dessert drink for everyone who enjoys red wine and rich, dark chocolate.
Peppermint White Hot Chocolate – a delicious hot cocoa that's made with peppermint kisses and white chocolate.
Slow Cooker Butterscotch Hot Chocolate – a sweet, creamy hot chocolate that's rich with butterscotch flavor and made in the slow cooker.
Caramel Spicy Hot Chocolate – this hot cocoa is flavored with caramel and spiced with some cayenne pepper.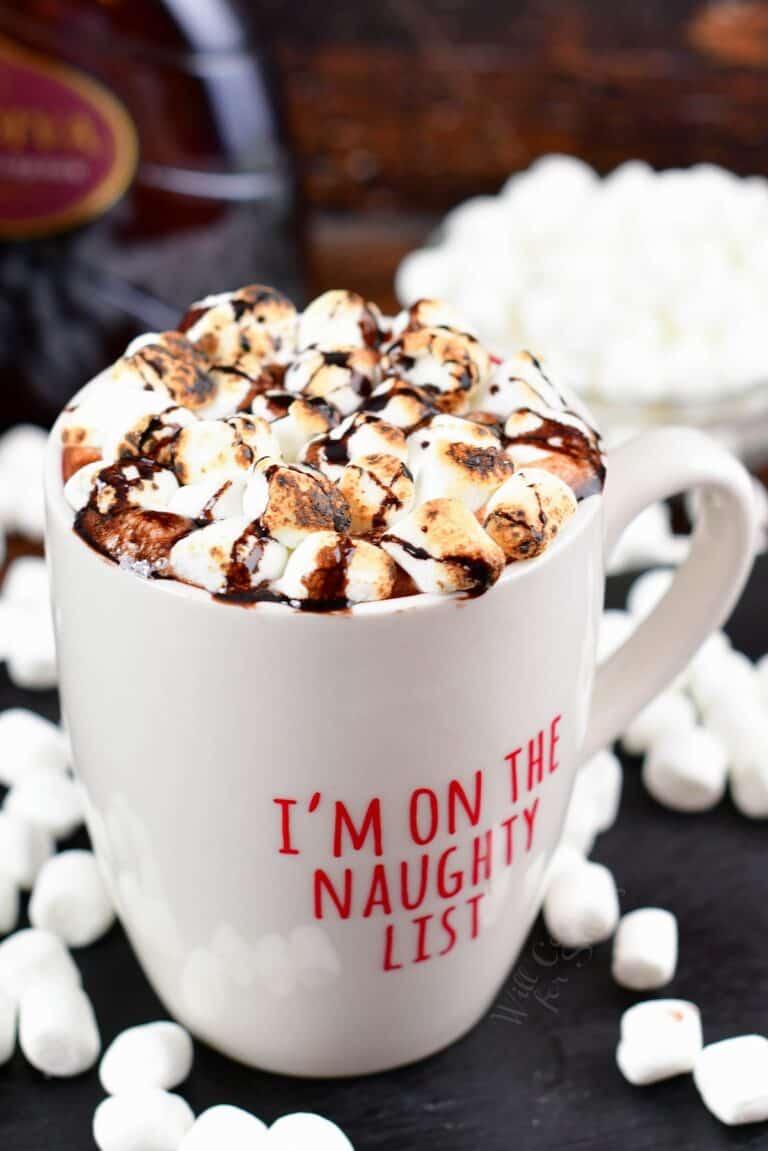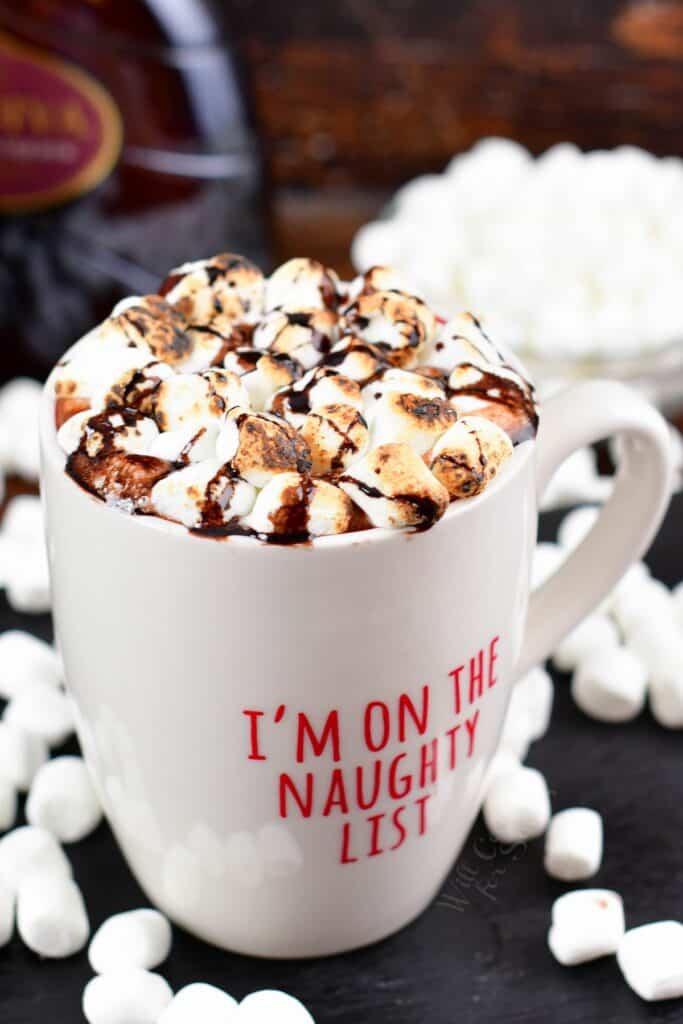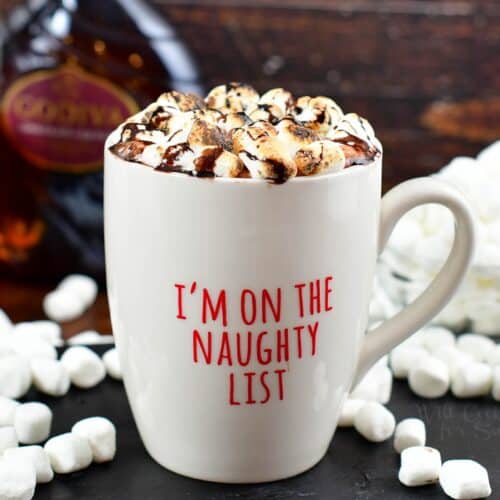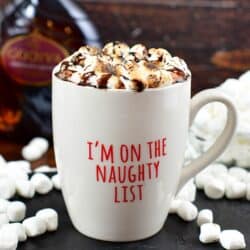 Spiked Hot Chocolate
This Spiked Hot Chocolate is made delicious with Godiva chocolate liqueur and bourbon, the best combination of liquor for homemade hot chocolate.
Print
Pin
Save
Saved!
Rate
Servings:
4
(makes 2-4 mugs)
Ingredients
3

cup

2% or low fat milk

4

oz

dark or bittersweet baking chocolate

2

tbsp

cocoa powder

1/4

cup

white granulated sugar

little more or less to taste

1

tsp

vanilla extract

1/2

tsp

cinnamon

3

oz

Godiva chocolate liqueur

3

oz

bourbon
Instructions
Chop the chocolate bar into small pieces.

Heat up milk in a sauce pot, over medium heat, until hot but not simmering.

Use a fine strainer or a mesh sugar shaker to sift in the cocoa powder to ensure that there are no clumps.

Whisk in the cocoa powder and add chocolate, sugar, and vanilla extract. Slowly continue whisking as chocolate is melts and incorporates into milk.

When milk starts to simmer, lower the heat to medium-low and continue to cook for a few minutes. Make sure to slowly stir from time to time. (Do not let it boil!)

Take off heat and stir in chocolate liqueur and bourbon.

Serve with some marshmallows or whipped cream of top if you wish.
Nutrition
Calories:
410
kcal
|
Carbohydrates:
41
g
|
Protein:
10
g
|
Fat:
19
g
|
Saturated Fat:
12
g
|
Polyunsaturated Fat:
1
g
|
Monounsaturated Fat:
6
g
|
Trans Fat:
1
g
|
Cholesterol:
14
mg
|
Sodium:
93
mg
|
Potassium:
524
mg
|
Fiber:
6
g
|
Sugar:
32
g
|
Vitamin A:
181
IU
|
Vitamin C:
1
mg
|
Calcium:
247
mg
|
Iron:
5
mg
Tried this recipe?
Mention @willcookforsmiles and tag #willcookforsmiles