Beautiful light snack for summer! Fresh tomato cups stuffed with Mediterranean veggie salad!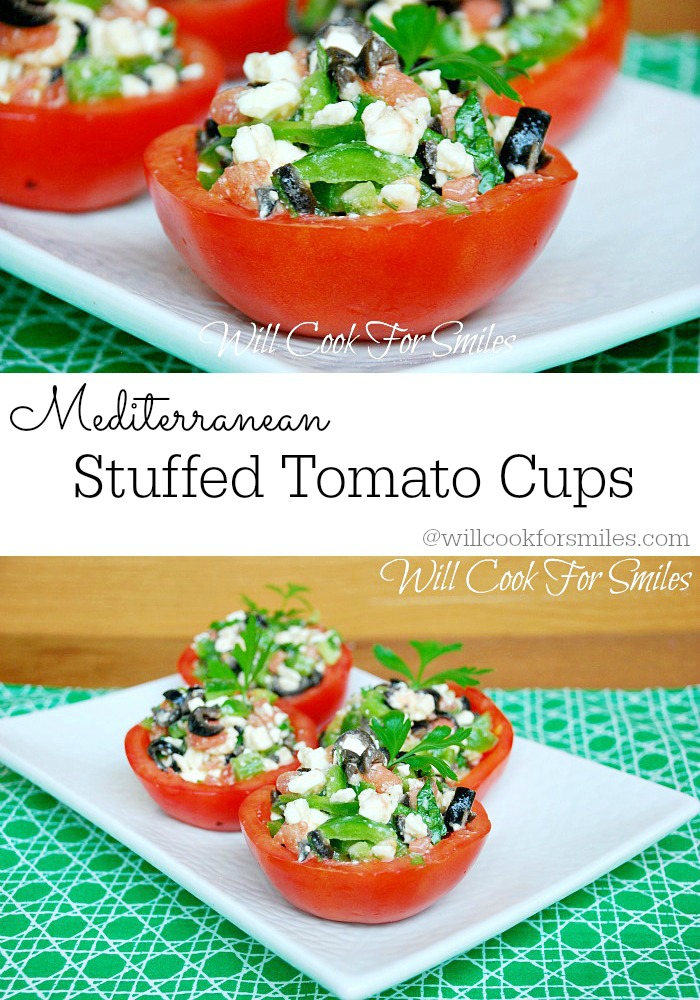 This healthy and refreshing stuffed tomato dish is perfect as a light snack or to serve at any summer gatherings!
So how are you handling the heat? Our AC has been working so much, the poor thing is leaking. Seriously hot! It hasn't been as bad as in Arizona or other mid-west states, we've only had high 90s. (obvious sarcasm insert)
Ouch…high 90s sounds like way too much too. But we did just have a straight month of rain, almost every day. High 90s and insanely humid!! Yuck!!
This week, I did not want to turn on the stove at all! I made this for myself for dinner one night when hubby was at work. Seriously, this is so delicious, its like heaven for taste bods!!!!
Ingredients:
4 large tomatoes
1/3 cup of sliced black olives
1 green bell pepper
6 oz of feta cheese
2 garlic cloves
1 tbs minced fresh cilantro
2 tbs grapeseed oil
2 tsp balsamic vinegar
salt, pepper
Directions:
1. Cut the tomatoes in half. Scoop out the tomato meat, carefully, and set it aside.
2. In a small bowl, combine chopped black olives, chopped green bell pepper, chopped tomato meat, feta cheese, grated or minced garlic, minced cilantro, oil, vinegar, salt and pepper. Mix well.
3. Scoop the mixture into the tomato cups.
Simple, quick and super delicious!!!
Enjoy!!
* I am linking this recipe to THESE GREAT PARTIES, in my party tab. Why don't you visit the wonderful hosts and link some of your own projects!?