These Swedish Meatballs are wonderful! So creamy and flavorful!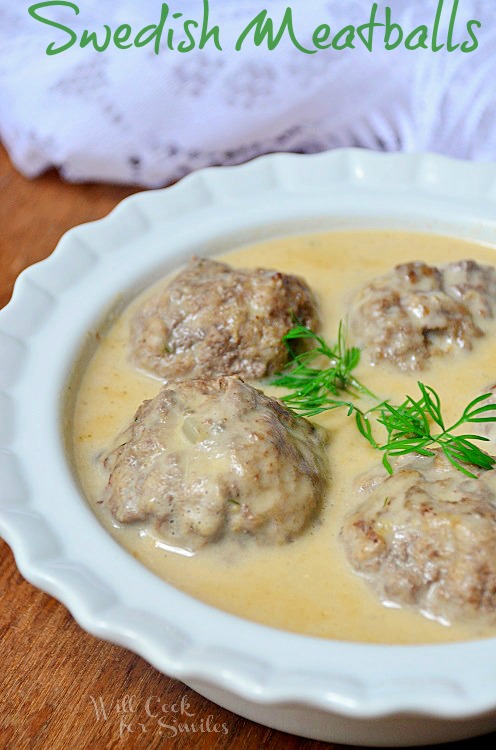 Swedish meatballs are probably one of the best-known Swedish cooking specialties. IKEA made Swedish meatballs popular in this country and I am very grateful. There are so many different version of Swedish meatball, depending on the region the recipe came from and of course personal tastes. I must have read twenty recipes for Swedish Meatballs before deciding on this particular combination of ingredients.
Lingonberry jelly is traditionally used with Swedish meatballs but you can substitute cranberry, red currant or raspberry jelly if you can't find lingonberry jelly. I actually decided to skip it this time because I was making it for the first time. Next time I will definitely try it the traditional way. If you will decide to use it, add 2-4 tbs of lingonberry jelly to sauce or as you serve it.
Everyone who knows me personally, knows that I make some of the best
meatballs
out there. Trying new type of meatballs was very exciting at my house. Swedish meatballs might taste completely different, but just like the other meatballs, these were very well received. The plates were licked clean for sure!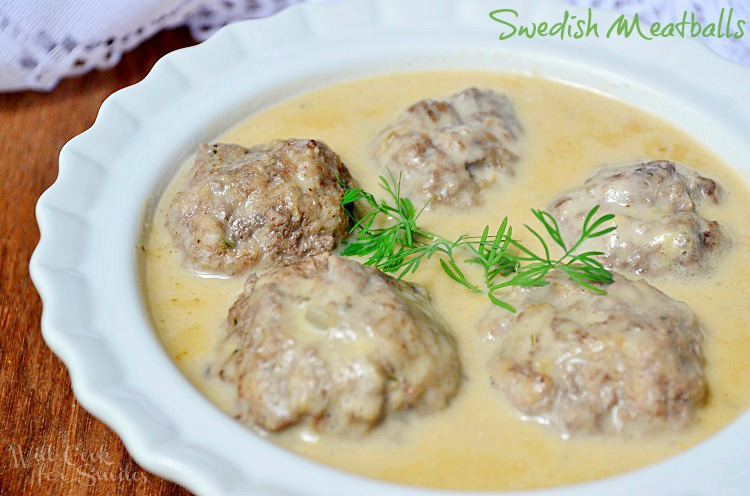 Ingredients:
1 lb ground pork
1 lb ground beef
1 egg
1 slice of wheat bread
1/4 cup milk
1/2 cup finely chopped onion
1/2 teaspoon ground allspice
1/2 teaspoon nutmeg
salt, black ground pepper
3 tbs olive oil
1/2 cup flour, for rolling the meatballs
For Sauce:
3 tbs butter
1/4 cup all-purpose flour
3 cups beef broth
1/2 cup heavy cream
1/2 cup sour cream
salt, pepper
2 tbs minced fresh dill weed
Directions:
Preheat the large skillet on medium heat and add the oil.
1. In a deep dish, place the slice of bread and pour the milk over it. Set aside
2. In a large mixing bowl, combine ground beef, ground pork, chopped onion, egg, nutmeg, allspice, salt and pepper.
3. Squeeze most of the milk out of the bread and crumble it into the meat
4. Mix all very well until completely combined
5. Dust your hands with flour, scoop out the meat with soup spoon and roll the meatballs (about 1 inch size meatballs). Keep lightly dusting with flour while rolling the meat into the ball.
6. Add the meatballs into the hot skillet. Cook covered on medium heat until completely cooked flipping half way through.
7. Take out the meatballs and save the meat juice. I used the juice from the meatballs in the sauce
8. Heat the butter in the skillet that you used for meatballs over medium heat
9. Add the flour and whisk to form a roux
10. Add the meatball meat juice slowly while stirring constantly.
11. Slowly add the beef stock, do not stop stirring. Whisk until smooth.
12. Add the salt, pepper, heavy cream and sour cream. Whisk until combined. Bring to boil (still on medium) and and add the minced dill weed.
13. Add the meatballs to the sauce. Cook together for about 5-7 minutes.
~Can be served with pasta, roasted potatoes or mashed potatoes.
Enjoy!!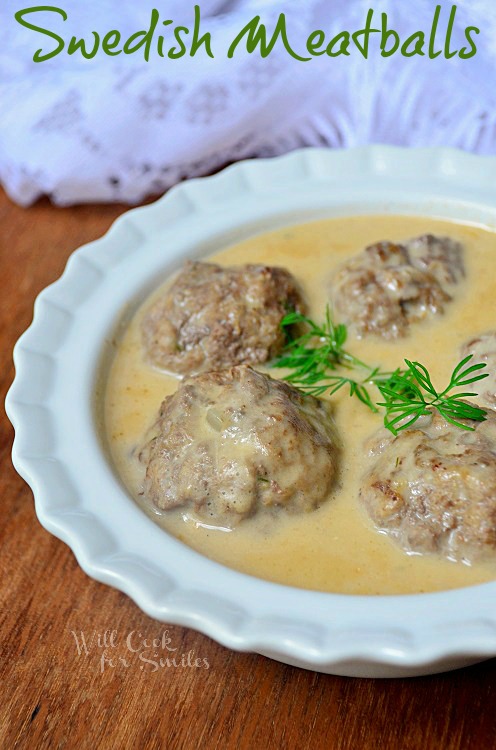 * I am linking this recipe to the Monday, Tuesday and Wednesday PARTIES. Why don't you visit the wonderful hosts and link some of your own projects!?