Who said that grilled cheese can't be special? Of course it can be special, if you add homemade pesto, mozzarella cheese and cover it in Parmesan cheese!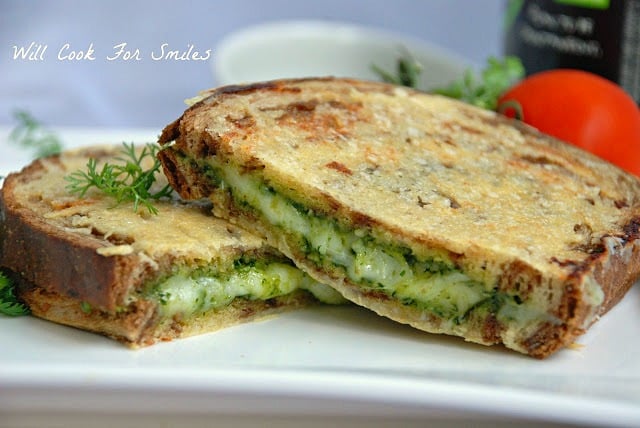 Well, its the 7th and you know what that means!! MoMs CrAzY CoOkInG ChAlLeNgE time!! April was a National Grilled Cheese month, I guess that's why Tina chose this particular item for the challenge.
I went looking for the right grilled cheese on Pinterest. It took me a whole 2 minutes to find one to fall in love! This grilled cheese is from
Two Peas and Their Pod
. The second I saw it, I knew it was the one! I also just made a fresh batch of
Pesto
. It was meant to be!
Ingredients:
2 slices of marble rye bread (my absolute favorite bread)
1 tablespoon soft butter, for spreading
1/2 cup shredded mozzarella (I completely forgot to buy fresh mozzarella)
2 tablespoons basil pesto
1/3 cup finely shredded Parmesan cheese
Directions:
1. Butter each slice of bread on one side.
2. Spread basil pesto on the inside of each slice of bread.
3. Place the mozzarella cheese slices on top. Top with the other slice of bread. Sprinkle half of the Parmesan cheese on the top of the sandwich.
4. Place the sandwich, Parmesan side down on a preheated, non-stick pan. Top off with the remaining Parmesan cheese. Set heat on medium.
5. Grill for about 2 minutes on each side, until cheese is golden brown.
Enjoy!!!
* I am linking this recipe to THESE GREAT PARTIES, in my party tab. Why don't you visit the wonderful hosts and link some of your own projects!?